Offshore Operational Production Costs Have Fallen
|
Tuesday, January 28, 2020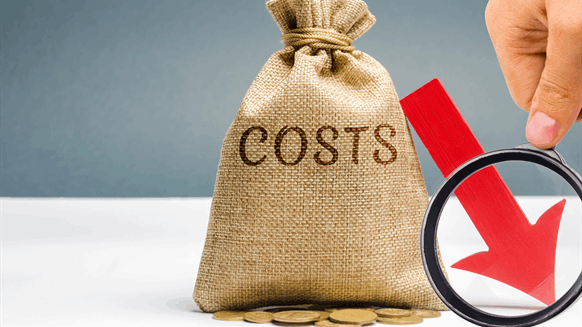 According to a new study from Rystad Energy, the UK led the world in cutting the cost of its offshore oil and gas production.
Low oil and gas prices and production surpluses have forced companies to significantly cut operational production costs to maintain profit margins[i]. According to a new study from Rystad Energy, the United Kingdom led the world in cutting the cost of its offshore oil and gas production. For example, between 2014 and 2018 the United Kingdom cut its operational production costs by a hefty 31 percent. This compares with Norway's cuts of 19 percent and 15 percent by the United States.
Source: Rystad Energy
Sara Sottilotta, Oilfield Service Analyst at Rystad Energy concludes, "The reduction in operating expenditure is largely the result of offshore regions – such as the United Kingdom, Brazil, Nigeria, Angola, the Gulf of Mexico and Norway – feeling the squeeze of uncertain oil prices, which in turn has driven operators and contractors to nurture operational improvements in pursuit of lower unit prices."
How were costs reduced?
Rystad Energy found that reductions in expenditure costs owed much to a variety of measures, most notably, improvements in strategic planning, maintenance management and the application of new technologies. However, some of the reduction could have come from delaying maintenance of equipment since the study notes that unplanned outages, caused by equipment failure and damage, had increased by 400 percent since 2013.
In the U.K.'s case, Sara Sottilotta found operational expenditure (opex) per barrels of oil equivalent (boe) fell from more than $30 per barrel in 2014 to just $16 per barrel in 2019. This almost halving was attributable to two main factors. One, the general increase in production and two the falling share of production from mature fields as new fields came on-stream.
But more specifically, in the case of the U.K.'s North Sea fields, operational expenditure costs were cut due to a number of factors including changing work rota cycles, the closing of older fields and lower salaries[ii]. For example, some North Sea operators have extended the time workers spend on a rig from two weeks to three. Because of this, operators were able to achieve cuts in salary costs and make logistics savings, such as reducing the number of helicopter staff transfers to rigs. But, the new work rota proved unpopular, leading some operators to introduce a new shift work pattern of two-weeks-on-three-weeks-off system [iii].
Elsewhere including Brazil, Norway, the United States, Mexico, Angola and Nigeria, declines in operating expenditure costs were less spectacular.
For example, Brazil enjoyed the second biggest decline in operational costs from $16 per boe in 2014 to $11 per boe in 2019. This reduction was driven primarily by a significant increase in production, especially from the giant Lula field, which reached daily production of one million barrels of oil in 2019 [iv]. In contrast, Mexico's operating expenditure costs per barrel of oil equivalent have risen since 2016 owing to ongoing declines in production, due to the failure to develop a sufficient number of new fields to replace existing life-expired reserves [v].
Exchange Rate fluctuations
Norway's operating expenditure per boe was among the lowest, aided by the rise of the Norwegian Kroner (NOK) from an average of 6.3 per $1 in 2014 to an average of NOK 8.3. per $1 in 2017.
Source: Rystad Energy
As Figure 2 above demonstrates, the UK has achieved the biggest decline in operational expenditure per production unit even when considering fluctuations in the local currency. But Norway and the United States are close behind, with UK, Norway and United States doing most of their business in their local currency. Angola and Nigeria usually carry out operations in US dollars. This is because both countries are experiencing hyperinflation, which would result in giving a false impression of operational expenditure, when the real change in operational costs is likely to be much less.
[i] https://oilandgasuk.co.uk/wp-content/uploads/2019/03/OGUK-Business-Outlook-Report-2019.pdf
[ii] https://www.rystadenergy.com/newsevents/news/press-releases/operational-production-costs-have-fallen-globally/
[iii] https://www.rigzone.com/news/apache_ditches_33_rota_in_north_sea-28-sep-2018-157059-article/
[iv] https://www.aa.com.tr/en/energy/upstream/petrobras-starts-production-in-brazils-lula-field/23334
[v] https://www.worldoil.com/news/2019/12/10/mexico-s-giant-oil-find-is-no-miracle-cure-for-ailing-pemex
Generated by readers, the comments included herein do not reflect the views and opinions of Rigzone. All comments are subject to editorial review. Off-topic, inappropriate or insulting comments will be removed.