Offshore Drilling Poised for an Upswing in 2020?
|
Friday, December 27, 2019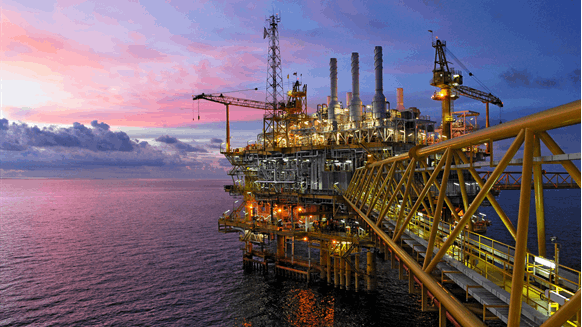 Increasing interest in offshore drilling owes much to the industry's success in reducing costs by between 30-40 percent and increasing productivity.
Offshore drilling has been depressed but, now with increased activity, oil production could peak in 2020 before joining shale in a slowdown that could dramatically rewrite market supply predictions. Overall rig demand is forecast to rise from 473 units in 2019 to 550 units in 2021, an increase of 16 percent according to IHS forecasts. Jeremy Lake, Vice President, Transocean, confirms the 6 percent rise in active floating rigs in the first half of this year and forecasts a market utilization rate above 80 percent. Lake also expects demand for jack-up rigs to increase from 345 units in 2019 to 388 units in 2021, a rise from 69 to 84 floaters and the number of drillships to increase from 59 to 78.
Market Drivers
Increasing interest in offshore drilling owes much to industry's success in reducing costs by between 30 and 40 percent and increasing productivity. "We've probably seen an incremental improvement of about 30 percent on some of our high-spec rigs operating in the Gulf of Mexico and around the world," states Brad Alexander, Vice President of Transocean.
Also, the recovery of crude to $70 a barrel during 2017 has given the green light to final investment decisions for several large-scale projects including the Fram gas field in the North Sea, the Ickier project in the Gulf of Guinea and the PowerNap sub-sea tie-back in the Gulf of Mexico.
Rig market development by category
The Offshore rig market comprises four segments namely, jack-ups, floaters, semisubmersible platforms and drill ships.
Jackups
In Europe and the Far East demand for jack ups is likely to plateau over the next two years. An uptick of activity in the North Sea is expected to see the number of jack-ups climb by one to 30. In contrast, demand in the Far East is expected to fall by 3 units to 43. In North America, demand is unlikely to change much, with overall demand fluctuating between 10 and 11 units. Likewise, South America's demand for jack-ups is expected to remain stagnant, fluctuating between two and four units in the next two years.
South America
In South America, especially in the Guiana Suriname Basin, forecasters expect at least five floaters to be working for Exxon Mobil by 2021. In Brazil, Petrobras is replacing the floaters it retired. However, the arrival of foreign oil and gas companies to Brazil's offshore pre-salt areas could support a substantial increase in semi-submersible platforms from 4 to at least 10 in 2021. Likewise, demand for drill ships could rise, from the 14 units this year to at least 23 units, depending on the success of Brazil's future licensing rounds.
West Africa
The number of drillships operating off the coast of West Africa could increase from 11 this year to 16 by 2021 and the number of drill ships could raise from 11 to at least 16 in the same period. As for the semi-submersible platforms market, forecasters expect it to remain flat but there could be new potential work arising from Total's recent Brulpadda discovery off South Africa Springfield find off Ghana.
Elsewhere in Africa, long-term developments are scheduled to begin at the end of 2020 in the waters off Angola, Nigeria, Ghana, Senegal and Mauritania.
North America and Central America
In the Gulf of Mexico, the number of floaters could rise with forthcoming exploratory drilling. Elsewhere, in Trinidadian waters, two floaters and two drill ships are expected to be used in upcoming years. However, in practice, the demand for rigs will depend on the success of new exploration campaigns.
The industry consensus is that unless offshore production costs fall further, a major improvement in demand for offshore rigs is off the table.
Generated by readers, the comments included herein do not reflect the views and opinions of Rigzone. All comments are subject to editorial review. Off-topic, inappropriate or insulting comments will be removed.