Offshore Contractors Primed For a Busy 2020
|
Wednesday, January 08, 2020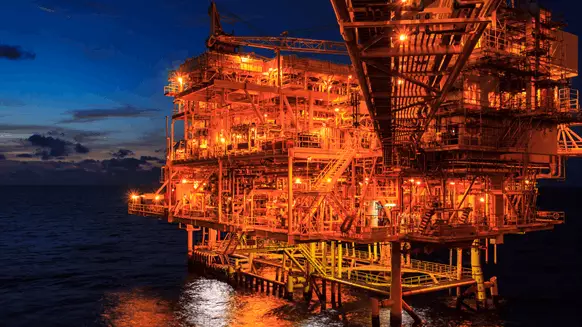 Some industry insiders have doubts about whether there is sufficient contractor capacity to deal with the expected volume of business.
2020 is likely to be a busy year for offshore oil and gas contractors. Current data suggests that the number of projects given the go-ahead will increase from 160 in 2016 to 250 new offshore schemes in 2020, reports Rystad Energy [i]. Some industry insiders have doubts about whether there is sufficient contractor capacity to deal with such a volume of business.
In Rystad Energy's latest market report on the global service market, floating production contractors, subsea installation service suppliers and fabricators of liquefied natural gas facilities, are likely to experience problems coping with increasing demand from their exploration and production customers for their services.
This means that because of insufficient industrial capacity to meet the increase in market activity, it is likely that many projects could face delays and increases in costs. This will mean that offshore contractors will be--for the first time since 2014 oil crash--price makers, rather than price takers as energy companies bid for their services.
Market activity
In Rystad Energy's latest market report it looks at market developments in floating production, storage and offloading vessels (FPSOs), installation of sub-sea umbilicals, risers and flow lines (SURF), plus deepwater and LNG projects.
With the FPSO market, contractors have won 13 new orders in 2019. This brings the total number at various stages of development to 28. Rystad Energy suggests that there is not sufficient industrial capacity to complete all additional orders on time during 2020.
As for the installation of SURF market, order books are booming and suppliers are facing problems in keeping pace with demand. For example, some 600 subsea Christmas trees were ordered in the year 2018 to 2019. In addition, subsea contractors are facing the challenge of installing about 4000 kilometers of subsea oil and gas flow lines and umbilicals in 2020.
"Deepwater projects are now in a challenging situation as they heavily depend on SURF and FPSO contractors," observed Audun Martinsen, Head of Oilfield Services at Rystad Energy. In addition, deepwater projects have been nearly as popular as onshore shale projects for many energy investors. So it is not surprising there has been a boom in new offshore oil projects.
As for the 10 LNG projects sanctioned in 2019, and the seven proposed for 2020, it is clear there are not sufficient numbers of experienced engineering, procurement and construction (EPC) contractors that are able to tackle the mega-projects planned in such a specialized sector. This means that many LNG projects are likely to face delays due to insufficient contractor capacity to deliver the projects on time.
The impact of offshore wind
To add to the demands on marine contractors is the growing demand from new offshore wind projects. According to Rystad Energy some 25 gigawatts (GW) of offshore wind capacity is now operational, and there is expected to be some 50 GW or more operational by 2022. Such a doubling in offshore wind generation means a significant increase in associated power cables to link the offshore wind turbines to customers onshore. Rystad Energy puts the total length of marine wind power cables at 1800 km in 2019, but this is expected to jump to 4300 km by 2022. Because of this, in 2022, there will be more marine wind power cable installed, than that meeting the needs of the oil and gas industry.
One thing is clear: marine contractors such as Fred Olsen, Subsea7 and Saipem are following the lead of major oil companies such as BP, Eni and Total into the renewables sector.
Contractors become the price makers
It seems the days of the oil companies being the price makers and the marine contractors as the price takers are now over. This is largely due to the shortage of industrial capacity operated by experience marine contractors, and the new market opportunities available to them in marine renewables sector.
[i] https://www.rystadenergy.com/newsevents/news/press-releases/delays-loom-for-lng-and-deepwater-oil-and-gas-projects-as-bottlenecks-restrain-service-industry/
Generated by readers, the comments included herein do not reflect the views and opinions of Rigzone. All comments are subject to editorial review. Off-topic, inappropriate or insulting comments will be removed.