Oceaneering Sees 4Q Net Loss of $263MM
|
Wednesday, February 26, 2020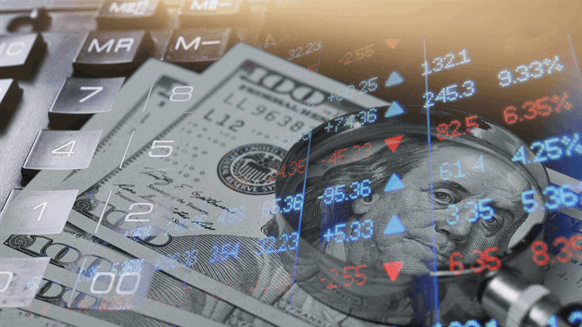 However, four of its five operating segments recorded sequential improvements in operating results.
Oceaneering International Inc. saw a net loss of $263 million on revenue of $561 million for the three months ended Dec. 31, 2019, up substantially from the prior quarter's net loss of $25.5 million on revenue of $498 million.
For the full year 2019, the company reported a net loss of $348 million on revenue of $2 billion. Adjusted net loss was $83 million, reflecting the impact of $258 million of pre-tax adjustments, mainly $240 million associated with asset impairments, write-downs and write-offs recognized during the year.
"Our fourth quarter results reflect higher activity levels, and we were encouraged that four of our five operating segments recorded sequential improvements in adjusted operating results and adjusted EBITDA," Roderick A. Larson, President and CEO, said in a statement. "As a result of the free cash flow generated during the fourth quarter, primarily due to a reduction in working capital, our cash position as of December 31, 2019 increased to $374 million."
Larson added that during the fourth quarter the company recognized non-cash charges related to impairments tied to some if its vessels and certain other assets, including goodwill and intangible assets, as market conditions no longer support the prior valuations for these assets.
"A small portion of the asset write-downs related to the retirement of 30 ROVs from our fleet. Additionally, we recognized restructuring costs as we continue to focus our efforts on adapting our asset base, geographic footprint and staffing levels for the realities of the markets we serve."
"Sequentially, ROV days on hire declined as expected by 2%, however a 5% increase in average revenue per day on hire resulted in a 3% increase in revenue for the fourth quarter. Adjusted operating results declined due to costs incurred to prepare our fleet for an anticipated increase in activity during 2020."
The company's fleet utilization for 4Q was 58%, down from 60% in the third quarter, mainly due to seasonality with the global vessel market. For the period its fleet use was 64% in drill support and 36% in vessel-based activity, compared to 63% and 37%, respectively, during the previous quarter.
At year end, it had ROV contracts on 98 of the 156 floating rigs under contract, or 63%.
First-quarter 2020 EBITDA is forecasted to be in the range of $36- to $42 million. Also, management expects organic capital expenditures in 2020 to total between $75- and $105 million. This includes approximately $40- to $50 million of maintenance capital expenditures and $35- to $55 million of growth, including $5 million of carryover from 2019.
During an earnings call discuss the results, Larson noted that the offshore energy industry has undergone significant rationalization and structural change over the last five years.
"These changes have been challenging, however…offshore activity has been trending higher over the last few years, evidencing the ability of this sector to compete and most analysts and research data points we track suggest a continued modest improvement in the markets we serve. Most analysts' Brent pricing forecasts are in the low $60 per barrel range for 2020 and conversations with customers suggest that the gradual recovery in offshore energy activity should continue as long as Brent pricing remains above $55 per barrel."
To contact the author, email bertie.taylor@rigzone.com.
Generated by readers, the comments included herein do not reflect the views and opinions of Rigzone. All comments are subject to editorial review. Off-topic, inappropriate or insulting comments will be removed.