New Subsea Era Could Begin with Power Tech
|
Tuesday, December 03, 2019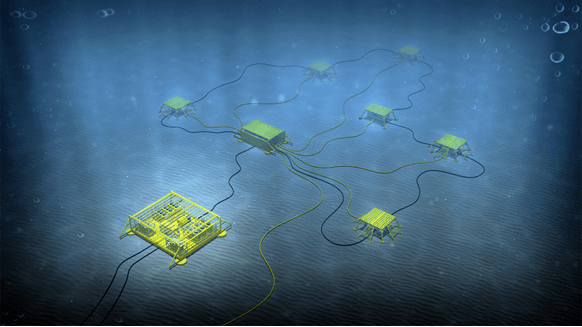 This rendering shows the layout of a subsea substation. IMAGE SOURCE: ABB
ABB recently reported that it has proven a groundbreaking subsea power technology system that will make oil and gas production feasible for more remote deep-ocean environments.
During a Nov. 20, 2019, event in Vaasa, Finland, ABB announced that it has developed the world's first subsea power distribution and conversion technology system. The firm noted that it reached the conclusion after the successful completion of a 3,000-hour shallow-water test in the city's harbor – part of a $100-million joint industry project (JIP) it carried out with offshore operators Equinor, Total and Chevron.
"This is a proud moment for us, to pass the 3,000-hour test and be ready for deployment," Kevin Kosisko, ABB's global managing director for Energy Industries, told Rigzone.
The technology, which Kosisko described as "disruptive," relies on a single cable that ABB states can deliver 100 megawatts (MW) of power from a land-based generating facility up to 373 miles (600 kilometers) offshore and down to a water depth of 9,842.5 feet (3,000 meters). The cable reportedly needs little to no maintenance for up to 30 years.
Deliverables from the JIP, which began in 2013, include power conversion technologies including a medium voltage distribution unit and two variable-speed drives for large pumps and compressors. ABB notes the technologies are commercially viable and designed to withstand decades of intense deep-sea pressures capable of shattering a brick.
According to ABB, the cable makes it possible for operators to power several electric loads – such as pumps and compressors – on the seabed. Also, the company maintains that placing equipment closer to the reservoir – and eliminating the need to install a cable for each load – will yield dramatic savings in power consumption costs and make more remote deepwater projects feasible.
Citing a field development case linking eight power consumers – such as pumps or compressors – through a single cable over 124 miles (200 kilometers), ABB estimates that a $500 million-plus capital expenditure savings is achievable. Using power from shore curbs carbon emissions and could even enable subsea infrastructure to operate with electricity from renewable sources such as hydro and wind, the company added.
"Moving the entire oil and gas production facility to the seabed is no longer a dream," noted Peter Terwiesch, president of ABB's Industrial Automation business. "Remotely operated, increasingly autonomous, subsea facilities powered by lower-carbon energy are more likely to become a reality as we transition toward a new energy future."
ABB is also contemplating how to make its recently introduced technology more robust.
"We are looking into capturing power from offshore wind turbines via a subsea substation, with no need for a platform to host the transformer and switchgears," Asmund Maland, ABB's group vice president for Subsea and Offshore Power, Oil and Gas, Energy Industries, told Rigzone. "Our transformer design can capture over 200 MW. We are looking into how to increase the rating."
Kosisko added the technology will facilitate the decommissioning process once a subsea development reaches the end of its life span. He explained that just removing equipment from the sea floor – minus a floating platform – represents a simpler proposition decommissioning-wise.
Although ABB is already contemplating how to advance the technology and reports that it has held discussions with multiple operators to deploy it in projects, the firm also credits Equinor, Total and Chevron with consistently supporting the JIP throughout a tumultuous period for the offshore industry.
"Our partners could've easily stopped during the downturn, but they didn't," said Maland, noting that the working relationship remained collaborative, transparent and seamless throughout the endeavor.
Kosisko added that the lure of contributing to the JIP's goal – developing deepwater subsea power and control technologies to help operators to develop far-flung oil and gas fields – was likely too hard to resist, even during a major offshore slump.
"I think our partners saw it as transformative to open up applications for new marginal field development," he concluded.
To contact the author, email mveazey@rigzone.com.
Generated by readers, the comments included herein do not reflect the views and opinions of Rigzone. All comments are subject to editorial review. Off-topic, inappropriate or insulting comments will be removed.