New Scottish First Minister to be Sworn In Today
|
Wednesday, March 29, 2023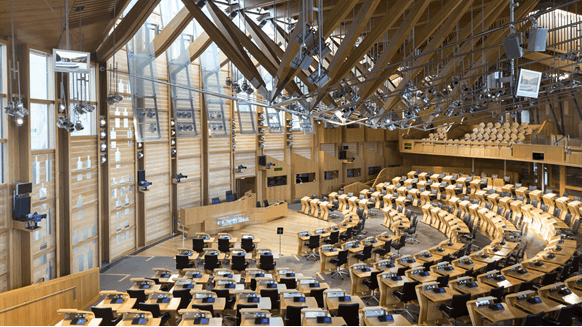 Humza Yousaf will be sworn in as the sixth First Minister of Scotland at the court of session on Wednesday.
Humza Yousaf will be sworn in as the sixth First Minister of Scotland at the court of session on Wednesday, the Scottish Government has announced.
At the session, Yousaf will take the official oath in front of the Lord President of the Court of Session and other senior judges, the government noted. He was nominated to become the First Minister of Scotland following a parliamentary vote on Tuesday, the government highlighted, adding that MSPs voted 71 to 57 to select Yousaf as First Minister from a total of four nominees who put themselves forward.
"This is a really proud day for me and my family. I hope it is also a proud day for Scotland, as it speaks to our values as a country as I stand here as the first ever Muslim to lead a western democratic nation," Yousaf said in a government statement on Tuesday.
"A key priority of my government will be to protect every Scot, as far as we can, from the harm that has been inflicted by the cost of living crisis. We will protect and we will reform our NHS and social care and other vital public services – to support our wellbeing economy to improve the life chances of people right across our country," he added.
SNP Election
Scottish National Party (SNP) members elected Yousaf as the new party leader in an election held between March 13 and March 27, the SNP site confirmed on Monday.
The final number of eligible members was 72,169 and a total of 50,494 ballot papers containing a valid vote were received, 48,645 of which were cast electronically, and 1,849 by post, the SNP revealed. There were three rejected postal ballot papers and the turnout was 70 percent, the SNP highlighted.
Back in February, Sturgeon announced her intention to resign as the First Minister of Scotland and the leader of the SNP. The MSP for the Glasgow Southside constituency, Sturgeon was elected as First Minister on November 19, 2014.
Yousaf has been the MSP for the Glasgow Pollock constituency since 2016 and was the former MSP for the Glasgow region from 2011 to 2016, the Scottish Parliament website shows. He previously served as the Cabinet Secretary for Health and Social Care under Sturgeon.
"It is hard to find the words to describe just how honored I am to be entrusted by the membership of the SNP to be our party's next leader, and to be on the cusp of being our country's next First Minister," Yousaf said in a victory speech posted on the SNP site on March 27.
"If elected as your First Minister after tomorrow's [March 28] vote in parliament, know that I will be a First Minister for all of Scotland, that I will work every minute of every day to earn and re-earn your respect and your trust," he added in the speech.
"As First Minister I will not shy away from the tough challenges, those that require the difficult decisions, but where there is that challenge, I will use it to find opportunity. My government will seize the economic and social opportunities of the journey to Net Zero, a country as energy rich as Scotland should not have people living in fuel poverty," Yousaf continued.
OEUK Response
Commenting on Yousaf's victory, David Whitehouse, the CEO of industry body Offshore Energies UK (OEUK), said, ''Offshore Energies UK congratulates Humza Yousaf as he becomes the new leader of the SNP and First Minister of Scotland".
"We wish him every success at this critical time for businesses and people looking for energy security and stability in their everyday lives," he added in a statement posted on OEUK's site.
In the statement, Whitehouse also noted that "energy policy is a big opportunity to drive high value jobs and growth for Scotland".
"Our rich heritage from oil and gas and Scotland's supply chain puts us in a strong position to seize the opportunity," he said.
"So, I'm looking forward to a highly collaborative relationship and building exciting new partnerships between government and industry for the good of Scotland and the wider UK," Whitehouse added.
"Our new Business Outlook report … shows how we can lead the world if we nurture today's homegrown energy production and give people certainty to carefully invest in tomorrow's technologies and talent," the OEUK CEO continued.
Sturgeon Farewell
In Sturgeon's farewell speech at the Scottish Parliament, which was posted on the SNP site on March 23, the country's former First Minister said, "no matter what I do in future, nothing will come close to the experience of the past 3,046 days".
"Being First Minister of the country I love has been a profound honor. I have led Scotland through good times, but also through the toughest period of our recent history," Sturgeon added.
"It is time for me to contribute in a different capacity to the causes I care deeply about – gender equality, care experienced young people, climate justice and always, until the job is done, winning Scottish independence," Sturgeon continued.
In the speech, Sturgeon also reserved a few words for her successor.
"Next week we will find out whose portrait will go alongside mine on the stairwell of Bute House. Subject to this chamber's approval, it will either be Scotland's second female First Minister, or the first from a minority ethnic background," Sturgeon said.
"Either way, it will send the powerful message that this, the highest office in the land, is one that any young person in Scotland can aspire to. Never forget that every day in this office is an opportunity to make something better for someone, somewhere in Scotland. Do not shy away from the big challenges or difficult debates," Sturgeon added.
"You won't get everything right. But it is always better to aim high and fall short than not try at all," Sturgeon continued.
Rigzone previously examined if Sturgeon's resignation would affect Scottish energy policy. To view that article, click here.
To contact the author, email andreas.exarheas@rigzone.com
Photo Credit – iStock.com/Daniel Tomlinson
What do you think? We'd love to hear from you, join the conversation on the Rigzone Energy Network.

The Rigzone Energy Network is a new social experience created for you and all energy professionals to Speak Up about our industry, share knowledge, connect with peers and industry insiders and engage in a professional community that will empower your career in energy.