New Louisiana Pipeline Set to Begin Ops
|
Wednesday, March 27, 2019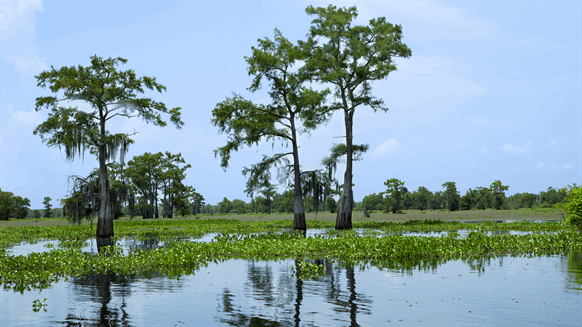 The pipeline extends from Nederland, Texas, to St. James, La., via the Atchafalaya Basin.
Phase 2 of the Bayou Bridge Pipeline is complete and will begin transporting crude oil on April 1, owners Energy Transfer and Phillips 66 Partners reported Tuesday afternoon.
According to the companies, the second phase of the U.S. Gulf Coast pipeline project extends 163 miles (262 kilometers) from Lakes Charles, La., to New Orleans-area terminaling facilities near St. James, La. The 30-inch (76.2-centimeter)-diameter Phase 1 of Bayou Bridge, which began service in April 2016, runs 49 miles (79 kilometers) from Nederland, Texas, to Lake Charles and carries multiple grades of crude, Energy Transfer and Phillips 66 Partners stated.
The completed pipeline will be able to transport up to 480,000 barrels per day of light and heavy crude oils, Energy Transfer's website states.
The second phase of the buried pipeline, with a diameter of 24 inches (61 centimeters), crosses the Atchafalaya Basin and was opposed by environmental activists. As this 2018 Reuters article that appears in Rigzone states, efforts to halt construction in the courts failed.
The Bayou Bridge project website notes that roughly 88 percent of the pipeline, including the entire segment within the Atchafalaya Basin, parallels existing infrastructure such as pipelines, power lines and roads. Moreover, it points out that the pipeline will improve the safety and efficiency of crude oil transport on the Gulf Coast by reducing shipments via rail, barge and ship.
"With the vast production happening in the Permian and Delaware Basin, safely and effectively transporting crude to Louisiana is vital to the success of our state's refineries and economic growth in the region," Tyler Gray, president of the Louisiana Mid-Continent Oil and Gas Association (LMOGA), told Rigzone. "A fully operational pipeline is an asset to all of Louisiana."
Gifford Briggs, president of the Louisiana Oil and Gas Association, said that his organization is "excited" to see the Bayou Bridge project's completion.
"This critical infrastructure is the safest and most efficient way to transport oil and gas material throughout the state," said Briggs, adding that developing pipeline infrastructure yields considerable economic development for Louisiana.
Energy Transfer owns 60 percent of Bayou Bridge and Phillips 66 Partners owns the remaining 40 percent.
Generated by readers, the comments included herein do not reflect the views and opinions of Rigzone. All comments are subject to editorial review. Off-topic, inappropriate or insulting comments will be removed.