New Fortress Moving Ahead on Mexico LNG Terminal
|
Thursday, February 27, 2020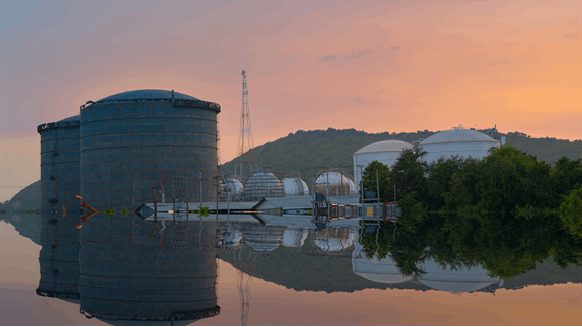 Additional equipment, materials, and workers will be deployed to the site to expedite completion.
New Fortress Energy LLC continues to make progress on the construction of a liquefied natural gas (LNG) receiving and regasification terminal in the port of Pichilingue, Baja California Sur, Mexico.
Marine work has been underway at the terminal site and all the necessary permits have been obtained for onshore construction of the power plant; additional equipment, materials, and workers will be deployed to the site to expedite completion.
"The BCS Government is in full readiness to achieve an energy transition that promotes new public and private investments in this sector, under a sustainability scheme that helps to avoid harming the environment," said Governor Carlos Mendoza Davis.
The facility is being constructed with power generation to provide low-cost electricity and truck loading bays for the supply of LNG to local hotel and industrial customers.
"With the project well underway, we are closer to introducing more affordable and cleaner energy for Baja California Sur," said New Fortress Chairman and CEO Wes Edens. "We have witnessed how LNG supply can become a catalyst for energy diversification and economic development and look forward to seeing similar results."
José López Soto, director of Port Authority Administration of Baja California Sur, added, "The LNG terminal at Pichilingue port is an important infrastructure project that will undoubtedly bring significant benefits to Baja California Sur."
New Fortress Energy is a global energy infrastructure company that funds, builds and operates natural gas infrastructure and logistics. It is majority-owned by a fund managed by an affiliate of Fortress Investment Group.
To contact the author, email bertie.taylor@rigzone.com.
Generated by readers, the comments included herein do not reflect the views and opinions of Rigzone. All comments are subject to editorial review. Off-topic, inappropriate or insulting comments will be removed.