Natural Gas to Drive 40 Percent of 2020 US Electricity
|
Wednesday, February 05, 2020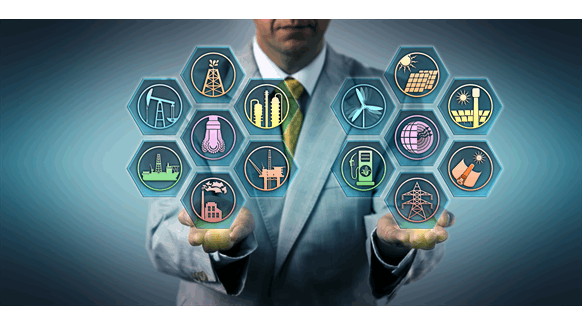 The country must continue to produce gas here, or it will be forced to turn to the increasingly precarious global supply chain.
Since 2008, the shale revolution has boomed U.S. natural gas production 60 percent to 95 Bcf/d. Long high and volatile, gas prices have become low and stable in the "shale-era." Further, gas emits some 50 percent less CO2 than coal and has very few local pollutants to clear hazy city skies. In fact, IEA credits shale gas for the U.S. cutting emissions faster than any other country.
Thus, there has been a great rise in U.S. gas power capacity and generation. Gas is extending toward being 50 percent of capacity and will generate almost 40 percent of U.S. electricity in 2020, or double its share from a decade ago.
Natural gas is also the favored backup source for intermittent renewables, for those frequent times when the "wind isn't blowing" and the "sun isn't shining." The reality is that these sources have capacity factors in the 30 percent range even on good days, so turning to gas as a clean and reliable fill-in often becomes the norm.
Indeed, even those states with seemingly unrealistic renewable goals still require loads of gas. In 2018, for instance, gas supplied nearly 70 percent of power in Massachusetts, 50 percent in California, and 40 percent in New York. Both EIA and IEA have gas as a cornerstone in the U.S. and global power sectors seeking sustainability by slashing greenhouse gas emissions.
EIA has gas maintaining a 40 percent share or so of U.S. power generation through 2050. But it could actually be much more. Gas is expected to add some 235,000 MW of new capacity, eight times more than wind and 35 percent more than solar. New U.S. gas capacity is some of the most efficient ever built, and these plants will remain operable for decades after coming online.
And since the "sweet spots" for wind and solar farms are bound to diminish, gas could end up supplying even more than expected. The country is increasingly going down a "renewables and gas only" future but gas is more reliable and flexible in terms of locations for best results. If Herculean-like expectations for wind and solar do not pan out like some just simply assume, more gas will be the answer. Even a carbon tax would help lower emission gas because it would sink coal, its primary competitor in most markets.
Yet, perhaps the most important reason for more gas is historically low prices thanks to the shale production surge. Some forecast that Henry Hub gas prices will remain below $3.00 per MMBtu for the next decade. With no end in sight, U.S. gas production is expected to see a 2-3 percent annual increase in production for decades to come. Higher oil prices in particular could bring a flood of essentially free "associated gas" from West Texas to drag down gas prices even further.
Natural gas is assured to be a cornerstone of the U.S. electric power system for as far out as modelers are currently going. And electricity is the ultimate indispensible source of energy: electricity "cannot not be used." A "deep electrification" of sectors such as transport and heating will obviously surge the need for our most vital source of electricity, natural gas. More aptly termed "natural gas cars," electric cars can increase home power usage by 50 percent or more.
For power, the U.S. now uses about 10.8 Tcf of gas per year. This is a 30 percent jump in just five years. The U.S. therefore faces a very obvious energy reality. The country must continue to produce gas here, or it will be forced to turn to the increasingly precarious global supply chain. Russia's Gas Exporting Countries Forum seeks global domination over the globalizing gas market like OPEC once had for oil, only to be broken by the U.S. shale oil boom. IHS Markit reports that the U.S. has some 700 Tcf that can be produced even when gas prices are below $3.00.
Generated by readers, the comments included herein do not reflect the views and opinions of Rigzone. All comments are subject to editorial review. Off-topic, inappropriate or insulting comments will be removed.