Military Moves Out to Fight Alberta Wildfires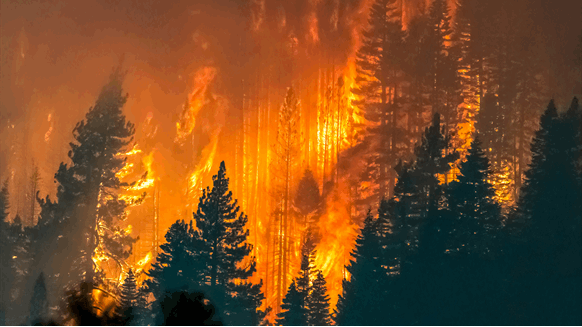 'Albertans will see this movement by vehicle on roads and in the air, as some forces and equipment will be moved by Royal Canadian Air Force fixed-wing aircraft and helicopters'.
Image by Kara Capaldo via iStock
In a statement posted on its website on Thursday, the Alberta government announced that the Canadian Armed Forces (CAF) had begun to move out to support Alberta "as the province battles unprecedented wildfires".
Troops from 3rd Battalion, Princess Patricia's Canadian Light Infantry (3PPCLI) and 1 Combat Engineer Regiment (1CER) are moving out to establish bases of operations in the province, the statement noted, adding that Army reserve soldiers drawn from across Alberta will deploy this week. Over the next few days, these units will deploy to the Grande Prairie, Fox Creek, and Drayton Valley areas, according to the statement.
"Albertans will see this movement by vehicle on roads and in the air, as some forces and equipment will be moved by Royal Canadian Air Force fixed-wing aircraft and helicopters," the Alberta government said in the statement.
"This movement and the establishment of these positions will create bases of operations for the forces to conduct fire mitigation efforts under the supervision of Alberta Wildfire personnel," it added.
"The capabilities the CAF can bring to support Alberta are firefighting support to aid in mop-up operations and basic firefighting duties. Airlift resources for increased mobility and logistical responsibilities, such as evacuating isolated communities, will also be provided. Engineering support will be provided where required, incorporating heavy equipment resources," it continued.
In the statement, the Alberta government highlighted that the CAF has been working closely with the Alberta Emergency Management Agency and said it has been conducting "significant" planning and reconnaissance throughout Alberta to determine where they are most needed.
"Alberta's Emergency Management Cabinet Committee continues to meet regularly to respond to the current wildfire situation across the province," the statement noted.
"Cabinet continues to have decision-making abilities and will make decisions as needed to deal with this emergency," it added.
The latest wildfire update on the Alberta government site at the time of writing, which was published on May 11 at 5pm local time, outlined that there were 77 active fires in Alberta's forest protection area. Of these, 24 were classified as out of control, 36 were being held and were not expected to grow beyond projected boundaries, and 17 were under control, the update highlighted.
Several Canadian energy companies have reacted to the wildfires, including Canadian Natural Resources Limited, TC Energy, Cenovus Energy, Crescent Point Energy, Vermilion Energy, Pembina Pipeline Corporation, and Pipestone Energy Corp.
Federal Assistance
On May 11, the Canada government announced in a statement posted on its website that Bill Blair, the President of the King's Privy Council for Canada and Minister of Emergency Preparedness, had approved a request for federal assistance from the Province of Alberta.
In response to the request, Anita Anand, the Minister of National Defense, authorized the CAF to provide personnel and resources to assist and enable firefighting, airlift resources for mobility and logistical tasks, and engineering support, the statement outlined.
CAF resources will be provided for an initial period of two weeks, with a one-week extension possible following a joint evaluation of the situation to determine if support is still required, the Canada government statement noted. In addition to the CAF deployment, the federal government is also providing support through a variety of bodies, including Public Services and Procurement Canada, the Royal Canadian Mounted Police, Employment and Social Development Canada, and Innovation, Science and Economic Development Canada, the statement pointed out.
"The government of Canada will always be there to help in times of need," Blair said in a government statement.
"As the extreme wildfires in Alberta continue, we are committed to helping keep residents across the province safe. I would like to thank the emergency management officials from all orders of government and first responders, particularly the firefighting personnel on the ground and in the air, for their tireless efforts," Blair added.
Anand said, "our Canadian Armed Forces have always answered the call of service to help their fellow Canadians in times of need".
"Whether during forest fires, floods, or other crises, our people in uniform have shown outstanding dedication to supporting their fellow citizens. I thank all personnel involved in this effort for their leadership and contributions to Canada," Anand added.
To contact the author, email andreas.exarheas@rigzone.com
What do you think? We'd love to hear from you, join the conversation on the Rigzone Energy Network.

The Rigzone Energy Network is a new social experience created for you and all energy professionals to Speak Up about our industry, share knowledge, connect with peers and industry insiders and engage in a professional community that will empower your career in energy.