Mexico's Gas Pipeline Woes Yield Binational Challenges
|
Tuesday, February 20, 2018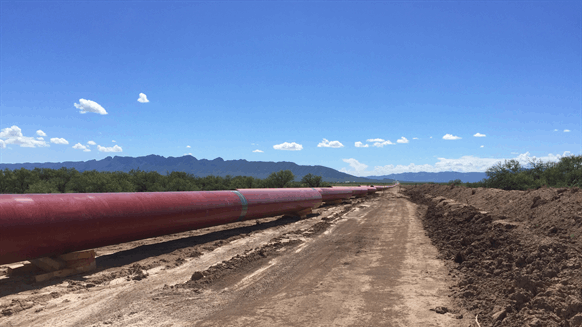 Analyst tells Rigzone 10 projects experiencing 'some sort of delays.'
U.S. natural gas exports to Mexico may stagnate this year at approximately 4.3 billion cubic feet per day (Bcf/d) as a result of bottlenecks and delays in several key pipeline construction projects in Mexico, Mizuho Energy reported in January.
"Of ten projects we are tracking, all are facing some sort of delays due to right-of-way disputes, social/indigenous protests or other reasons," Timothy Rezvan, Mizuho energy analyst, told Rigzone.
Rezvan noted that two of the projects traverse the U.S.-Mexico border while eight lay within Mexico.
He said that some of the key gas pipeline projects Mizuho is following include:
"The key factors driving demand growth in Mexico are modest macroeconomic growth combined with the government's explicit aim of strengthening the role of natural gas as a source of power generation," commented Mara Roberts Duque, New York-based senior analyst for oil and gas with BMI Research.
Previously the largest natural gas producer in Latin America, Mexico has witnessed a decline in year-on-year output from 46.9 billion cubic meters (Bcm) in 2011 to an estimated 34.6 Bcm last year, Duque pointed out. "Rising domestic demand over this period has led to an increase in natural gas imports, a growing share of which is sourced from the U.S. via pipeline," she explained. "Energy reforms have sought to encourage private investment in the midstream sector to remedy Mexico's pipeline deficit."
Although developers of pipeline and other energy infrastructure projects have made some headway in Mexico, Duque suggests the rate of progress likely will not accelerate anytime soon.
"Strong grassroots opposition will remain a challenge with respect to midstream development," Duque predicted. "Though several projects have progressed over the past few years, an increasing number are crossing through indigenous lands, sparking protests against their construction."
Mexico's Energy Secretariat is also considering expanding its Social Impact Evaluation Team to improve its consultative process, added Duque.
"However, this is unlikely to increase support for midstream projects in the near term given indigenous communities' negative stance toward their development," Duque said.
Although the Mexican government has licensed prospective resource deposits in both on and offshore acreage to help return the domestic natural gas sector to growth, these projects will not yield material gains before 2020, Duque stated. That translates into continued heavy reliance by Mexico on U.S. gas deliveries via pipelines and LNG carriers, she added.
Rezvan said the pipeline project bottlenecks and delays also represent "a clear negative for U.S. producers that need to increase demand for natural gas."
"U.S. Lower 48 gas production increased by 6.9 Bcf/d from April 2017 to December 2017," Rezvan noted. "There needs to be a commensurate increase in demand. LNG exports and increased industrial demand help, but Mexico is important as well, given expectations of a ramp to 8 Bcf/d of exports by 2021. We still expect exports to get there, but it may take longer."
Generated by readers, the comments included herein do not reflect the views and opinions of Rigzone. All comments are subject to editorial review. Off-topic, inappropriate or insulting comments will be removed.