LyondellBasell Marks 'Historic Moment' Near Houston
by Matthew V. Veazey
|
Rigzone Staff
|
Thursday, August 23, 2018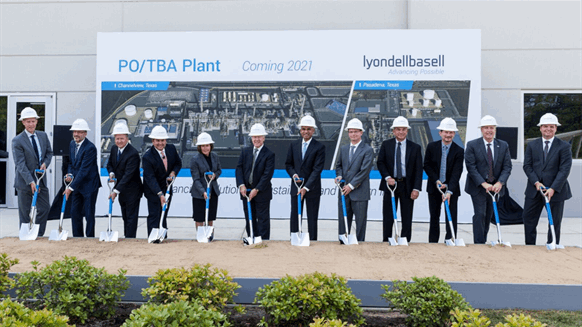 LyondellBasell officially broke ground on a $2.4B propylene oxide (PO) and tertiary butyl alcohol (TBA) project. SOURCE: LyondellBasell
LyondellBasell officially broke ground on a $2.4 billion propylene oxide (PO) and tertiary butyl alcohol (TBA) project Wednesday that will be located at its existing Channelview and Bayport sites near Houston.
"Today's groundbreaking is a historic moment for our company," LyondellBasell CEO Bob Patel said at Wednesday's ceremony to kick off the company's largest-ever capital investment.
The company stated that it will build a 140-acre PO/TBA plant at its Channelview Complex and an associated 34-acre ethers unit, which will convert TBA to oxyfuels, at its Bayport Complex in Pasadena. The new Channelview plant will produce 1 billion pounds (470,000 metric tons) of PO and 2.2 billion pounds (1 million metric tons) of TBA annually, LyondellBasell noted. In addition, the company reported that it decided to build the dual-located plant at Channelview and Bayport given their proximity to low-cost feedstocks and the transportation infrastructure needed to ship products worldwide.
"This plant will be the largest of its kind, built to meet the rising global demand for urethanes used by billions of customers each day and clean-burning oxyfuels that will help improve air quality around the world," continued Patel. "The construction of this project will provide jobs for our neighbors, support local businesses and strengthen our communities with increased tax revenues across the greater Houston region. As one of the cornerstones of our global growth strategy, the new plant will strengthen our ties in Houston and generate long-term value for our shareholders."
According to LyondellBasell, increased demand for consumer products in Asia and India should drive an anticipated four- to five-percent global demand growth rate for urethanes over the next five years. The global TBA market should experience three percent annual growth until 2028 as a result of efforts underway in Asia Pacific and Latin America to improve air quality and promote the use of cleaner-burning gasoline, the company added.
The PO/TBA project is one component of a $5 billion U.S. Gulf Coast growth program that LyondellBasell has been undertaking. The company recently completed an ethylene expansion at its La Porte, Channelview and Corpus Christi sites to boost its annual domestic ethylene capacity by 2 billion pounds (900,000 metric tons). Also, the company is building a world-scale polyethylene (PE) plant at La Porte that will more than double the site's PE capacity to 2 billion pounds (900,000 metric tons).
LyondellBasell stated the project will create more than 2,200 jobs at the peak of construction and 160 permanent positions during operations. Also, citing estimates from the Greater Houston Partnership, LyondellBasell stated that the PO/TBA project should generate more than $453 million in tax benefits for the county, school district, community collect and other local taxing districts over the next decade.
The PO/TBA project at Channelview and Bayport should reach the start-up phase in 2021, LyondellBasell projected.
Generated by readers, the comments included herein do not reflect the views and opinions of Rigzone. All comments are subject to editorial review. Off-topic, inappropriate or insulting comments will be removed.