LyondellBasell Anchor Customer for New Enterprise Plant
|
Friday, September 27, 2019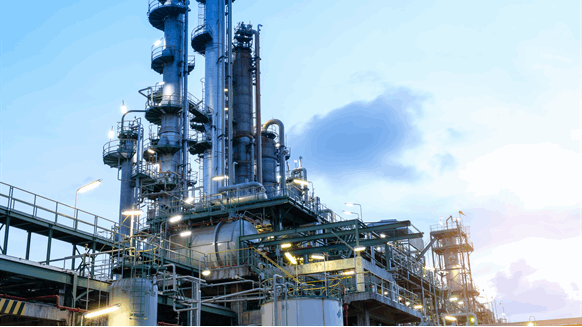 Enterprise Products Partners reported that it will build a second PDH plant at its complex in Mont Belvieu, Texas, bolstered by long-term supply contracts with LyondellBasell Industries.
Enterprise Products Partners L.P. reported Thursday that it will build a second propane dehydrogenation (PDH) plant at its complex in Mont Belvieu, Texas.
The decision to build the "PDH 2" plant stems from recently executed long-term polymer grade propane (PGP) supply contracts between Enterprise and LyondellBasell Industries N.V.
"As we aim to meet the growing demand for our products, ensuring a long-term supply of feedstock is critical," LyondellBasell CEO Bob Patel said in a written statement. "These agreements allow us to leverage Enterprise's construction expertise, operating experience and robust network as we continue to deliver an outstanding value proposition for our customers."
According to Enterprise, PDH 2 will consume up to 35,000 barrels per day (bpd) of propane to product up to 1.65 billion pounds per year of PGP. The company added that it has licensed Honeywell's UOP Oleflex propane process to produce PGP.
"PGP is a primary petrochemical that can be converted into hundreds of products that improve the daily lives of people around the world," stated A.J. "Jim" Teague, CEO of Enterprise's general partner. "Demand growth for these propylene-based products is strong and PDH 2 will provide cost-advantaged supply assurance to our customers, enabling expansion of their downstream businesses to satisfy this global market."
Enterprise also reported that it has negotiated terms with S&B Engineers and Constructors, Ltd. for a fixed-cost engineering, procurement and construction (EPC) contract to build PDH 2.
"With the combination of LyondellBasell as an anchor customer, our use of UOP's Oleflex technology and S&B providing engineering and construction services, I am highly confident of a successful project that will grow Enterprise's cash flow per unit and enhance the value of our partnership," concluded Teague.
Enterprise expects PDH 2 to begin service during the first half of 2023.
To contact the author, email mveazey@rigzone.com.
Generated by readers, the comments included herein do not reflect the views and opinions of Rigzone. All comments are subject to editorial review. Off-topic, inappropriate or insulting comments will be removed.
RELATED COMPANIES
Company: Enterprise Products Partners LP
more info