Louisiana Firm Wants to Make Safety More Fashionable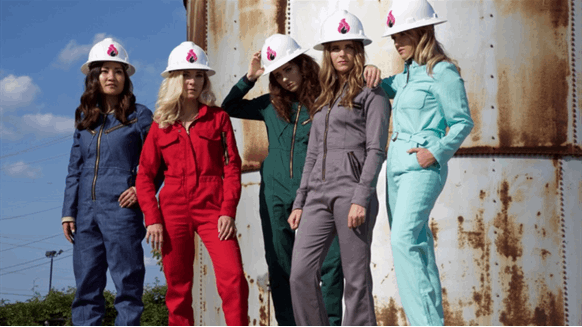 Ill-fitting - and unsafe - flame-resistant clothing: another proverbial glass ceiling this woman-owned business seeks to shatter. IMAGE SOURCE: HauteWork
You likely won't see Jaime Glas' apparel designs featured on the catwalks of Milan, Paris or New York. You might, however, see them hard at work near a different kind of catwalk in places such as the Gulf of Mexico and the Permian Basin or at petrochemical facilities on the U.S. Gulf Coast.
Glas, a petroleum engineer-turned-entrepreneur, is on a mission: to make flame-resistant clothing (FRC) safer and more comfortable – not to mention more stylish – for women in the field.
"We've done tons of sales to individuals that actually are spending their own money to have a better-fitting FRC," Glas said of her Louisiana-based company HauteWork, which she started forming in 2016 during the latest oil and gas industry downturn.
Glas, who got the idea for female-friendly FRC doing field work for Chevron as a petroleum engineering student at Louisiana State University, acknowledged that HauteWork's American-made products typically do cost more than conventional FRC. As a result, she explained the somewhat higher sales price keeps the garments off the proverbial radar of oil and gas companies' procurement systems.
"I think one barrier to entry in the market has been customers not knowing if the garments are allowed by their company," Glas said. In fact, she pointed that all of HauteWork's FRC components and garments are certified by Underwriters Laboratories (UL) to the applicable National Fire Protection Association (NFPA) standards: NFPA 2112 and NFPA 70E.
"Also, it's the saying, 'if it ain't broke, don't fix it,'" continued Glas, whose firm currently boasts two full-time and two part-time employees and contracts manufacturing in the United States. "Companies have been offering the same 10 brands or so for the last 20 years."
Read on to learn why Glas thinks women deserve better-fitting FRC and how her growing business – previously called Hot Stuff Safetywear – is helping them to rediscover more about themselves.
Rigzone: Would you briefly describe your inspiration for designing and producing flame-resistant (FR) garments for women?
Glas: The idea for Hot Stuff was born in 2010 during my second internship with Chevron. That spring, the U.S. Occupational Safety and Health Administration (OSHA) established the requirement that all personnel involved in oil and gas well drilling, servicing and production-related operations wear FRC during the jobs. I was issued my first pair of FRCs at the beginning of that summer, as I would be working 2-weeks on/1-week off of a land drilling rig as a drilling engineering intern. The coveralls that I was issued were extremely baggy and unsafe. I made it my mission right then and there to change that for women.
Rigzone: Some might say that FRC are meant for safety and not for style/appearance. How would you respond to that?
Glas: Safety is of utmost importance in the garments we offer. In the very beginning of this journey, I spent nearly a year researching the requirements and safety implications of FRCs, while searching for sourcing companies that had the safest reputations. The reality is that wearing ill-fitting FR garments can be extremely unsafe. Offering properly fitting garments for women is our primary mission, but adding a few style elements here and there does not compromise this motivation whatsoever. Plus, you have to wear these clothes for most of the day, so you might as well feel good in them.
Rigzone: You started your company during an oil and gas downturn. What's been most challenging and exciting about striking out on your own during a period of industry cost reductions, job cuts, etc.?
Glas: Well, leaving during the downtown was one of my intentions – I started running full-speed on HauteWork when the industry started slowing. I saw the exact opportunity that you mentioned. If I can build this thing while people really aren't spending budgets on new uniforms, then I will be ready to go when the recovery happens. I definitely think this is one factor contributing to the early success of HauteWork.
Rigzone: Males make up a disproportionate share of operations folks in oil and gas. Besides FR apparel, are there any other industrial product and service offerings for women that could represent golden opportunities for entrepreneurs such as yourself?
Glas: I can't give away all my secrets! I will say that the company rebranding as HauteWork allows us to expand past just FR apparel and offer any industrial work apparel or uniforms for women. We want to be the feminine/fashionable version or Carhartt and some of these major work apparel brands that you see.
Rigzone: How's the response been to your company's take on FR apparel from women who work in an oil and gas operational capacity?
Glas: Extremely positive. Some of the quotes I have gotten: "Thank you!" "Finally someone paying attention to women!" "Yep. Love actually having a butt, legs and waistline."
Generated by readers, the comments included herein do not reflect the views and opinions of Rigzone. All comments are subject to editorial review. Off-topic, inappropriate or insulting comments will be removed.