LNG Sector Enters Unprecedented Territory
|
Wednesday, January 22, 2020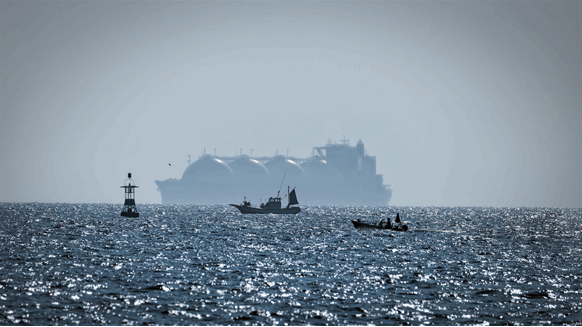 The LNG industry achieved six all-time highs last year, according to IHS Markit.
The liquefied natural gas (LNG) industry set six new records in 2019, IHS Markit reported Tuesday.
According to a new report from the information and analytics firm, the sector's latest annual milestones reflect a sustained growth trend including a more than 50-percent increase in global capacity: from 283 million metric tonnes per annum (MMtpa) in 2015 to 437 MMtpa in 2020.
"The ongoing pace of new investment is especially noteworthy considering a market context of weak global prices," commented Michael Stoppard, IHS Markit's chief strategist for global gas, in a written statement emailed to Rigzone. "Not only did LNG grow at an unprecedented rate in 2019, but the industry also laid the foundations for continued strong growth into the middle of the decade."
The LNG industry milestones identified in IHS Markit's report, 2019: A Year of Records for LNG, include:
New investment: IHS Markit found that final investment decisions (FIDs) for liquefaction projects hit 70.4 MMtpa last year – 40 percent higher than the previous record of 50.4 MMtpa set in 2005. The firm also contends the United States, Russia and Mozambique also set individual country-level highs in terms of annual FIDs.
FIDs without long-term contracts: According to IHS Markit, the level of liquefaction FIDs without long-term contracts or underpinned by sales to affiliates hit record territory last year. The company stated that such "affiliate marketing" arrangements soared to an unprecedented 43 MMtpa of volume last year. It added the practice has been uncommon at such a scale in the LNG industry. Instead, project developers traditionally have preferred securing long-term offtake contracts before taking a FID on a liquefaction facility. "By choosing to proceed without third-party contracts, projects can be developed more rapidly," IHS Markit stated.
New liquefaction start-ups: The 38.8 MMtpa of new liquefaction start-ups last year represents an all-time high, narrowly beating the previous record for this metric set in 2009, according to IHS Markit. The firm added that the pace of start-ups – clustered in Australia, Russia and the U.S. in 2019 – should decelerate to 28.6 MMtpa this year. Also, it predicted the U.S. will continue to dominate on the start-up front as it completes its current slate of projects.
Global export leader change: IHS Markit reported that Australia bypassed Qatar in 2019 as the world's top LNG exporter, supplying the global market with 80.2 million metric tonnes (MMt) of LNG during the period. The firm added that Australia had exported 72.5 MMt in 2018. It expects Australia to retain the LNG export top spot until 2023, when the U.S. is projected to gain the designation.
New Europe records: Europe set LNG import records every single month in 2019 and for the year as a whole, IHS Markit stated. The region's annual net imports hit 87.2 MMt last year, easily eclipsing the previous record of 65.5 MMt from 2011, the company noted. With new liquefaction supply hitting the market this year and in fact outpacing Asian demand growth, IHS Markit expects LNG imports to Europe to remain strong.
New China record: China imported record LNG volumes for the fourth consecutive year in 2019, taking in 13.4 percent more LNG from the previous year, according to IHS Markit. Moreover, the company stated that China overtook Japan as the world's top LNG importer in December 2019 with volumes for the month reaching 7.3 MMt against Japan's 6.9 MMt. The firm expects Japan will remain the world's leading LNG importer on a total annual basis through 2022, but it pointed out the country imported less LNG for the second straight year in 2019. It added that Japan's overall LNG imports have been trending downward since 2015.
To provide some perspective, IHS Markit noted that global LNG supply totaled 373 MMt in 2019 – an 11.8-percent increase from the previous year. It also stated that net LNG imports hit 358.8 MMt last year, up nearly 7.9 percent from 2018.
To contact the author, email mveazey@rigzone.com.
Generated by readers, the comments included herein do not reflect the views and opinions of Rigzone. All comments are subject to editorial review. Off-topic, inappropriate or insulting comments will be removed.