LNG Could be a Lifeline for Alaska's Struggling Oil Industry
by Jude Clemente
|
Rigzone Contributor
|
Monday, July 29, 2019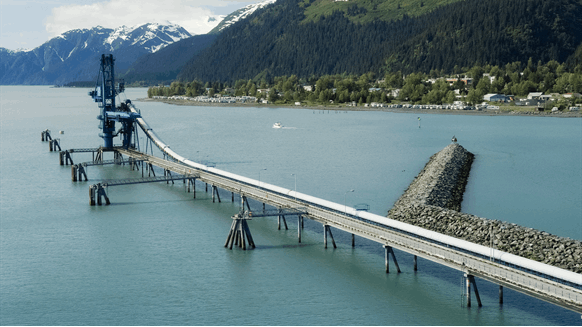 LNG offers a critical replacement opportunity for an aging oil industry that has been so central to Alaska's economic growth.
Oil has been the economic growth engine for Alaska for many decades. It has funded as much as 90 percent of the state's unrestricted General Fund. "Black Gold" has supplied 33 percent of Alaska's jobs and more than 50 percent of the overall economy.
Since statehood in 1959, oil has given Alaska around $185 billion in revenues. The North Slope has produced more than 17 billion barrels of oil since the discovery of the Prudhoe Bay field 50 years ago. To illustrate, even with a price collapse in Q4, oil production generated $2.4 billion in revenue for 2018.
The primary problem, however, is that Alaska's crude output continues to decline and an overreliance on oil has been exposed. At over 2 million b/d, Alaska's oil production peaked in 1988, with Prudhoe Bay accounting for 80 percent of that. At the time, Alaska represented 25 percent of total U.S. crude supply.
But over the past 10 years, Alaska has completely missed out on the U.S. shale revolution that has taken the country and really the world by storm. Today, Alaska's supply has sunk to around 0.5 million b/d, or just 4 percent of what the country produces.
The good news is that there could be 50-60 billion barrels of conventional oil remaining to be developed on the North Slope and offshore areas of the Alaska Arctic. The oil industry continues to seek new ways to develop these challenging reserves. The deposits consist of heavy oil, light oil from small and remote fields, and natural gas liquids. Making development more practical though, most forecasting agencies model that oil prices will take an upward trend over the mid- and long-terms.
Alaska's remaining resource sits on federal lands and offshore regions that have been hampered or even blocked by U.S. policy, environmental litigation, and/or a complicated and unpredictable regulatory regime. The 40-year fight over allowing development of resource-rich ANWR illustrates the complexity. And even on state lands, the government took so much under the old tax system (ACS) that Alaska was unable to compete with other producing areas.
But now, a renaissance in the North Slope has been taking shape. The oil tax reform in 2013 made Alaska more competitive and a more attractive place to invest. Referred to as "SB 21," the More Alaska Production Act has drawn billions of dollars in new investment over the past several years. In fact, 2016 was the first year where Alaskan production actually grew in almost 15 years. Officials now see production increasing 6-8 percent over the next few years.
Yet looking farther forward, the reality is that Alaska's greatest oil days are behind it. The real energy potential for the state is in exporting natural gas via LNG. The global shift to utilize more gas to reduce greenhouse gas emissions continues apace. Albeit low volumes, ConocoPhillips has been exporting LNG from Alaska's Kenai Facility to Japan since 1969.
In March, the Alaska Gasline Development Corporation announced an agreement with BP and ExxonMobil to advance the 3.7 Bcf/d, $43 billion Alaska LNG megaproject. With widespread concerns over environmental impact, Governor Mike Dunleavy wants a "full project review." At the end of June, FERC released a draft review of Alaska LNG as a key first step.
One advantage Alaska has is that it takes just seven to eight sailing days to reach Asia (where 75 percent of global LNG demand resides), versus 20 to 30 days for LNG competitors along the U.S. Gulf Coast. In addition, shipments from Alaska would avoid the pricey tolls to pass through the Panama Canal. The North Slope alone contains over 35 Tcf of proven natural gas reserves and a potential resource of another 200 Tcf.
LNG offers a critical replacement opportunity for an aging oil industry that has been so central to Alaska's economic growth. According to the St. Louis Fed, for instance, Alaska's GDP has stagnated at ~$56 billion over the past decade. In contrast, shale oil and gas juggernaut Texas has surged 45 percent to ~$1.8 trillion.
Generated by readers, the comments included herein do not reflect the views and opinions of Rigzone. All comments are subject to editorial review. Off-topic, inappropriate or insulting comments will be removed.
MORE FROM THIS AUTHOR
Jude Clemente
Rigzone Contributor