Key Buyers Push US Oil Exports to Record Highs
by Jude Clemente
|
Rigzone Contributor
|
Thursday, April 04, 2019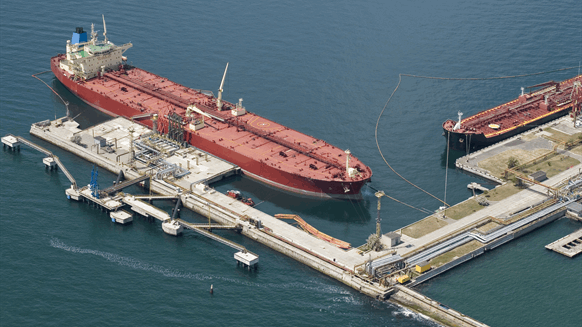 Total weekly U.S. crude and product exports should be consistently outpacing imports starting in 2020.
Constantly evolving hydraulic fracturing and horizontal drilling technologies have opened up more U.S. petroleum resources than ever imagined. Crude production has boomed 140 percent over the past decade to 12.1 million barrels per day (bpd). During the course of 2018, for instance, output rose nearly 25 percent, even more impressive since domestic prices (WTI) had fallen 23 percent to $46 per barrel by the end of December. This flood of supply is just one of a number of key factors that have allowed U.S. oil exports to rapidly grow.
The U.S. oil business was gifted its historic lift at the end of 2015, when a law change allowed crude sales to go beyond neighbor Canada. In addition, U.S. shale oil is a lighter, sweeter grade, and the country's refining system is mostly configured to process heavier, sour kinds that have historically been imported from Mexico, Canada, and Venezuela. In other words, combined with very high but flat domestic demand, the U.S. has had a surplus of oil to ship abroad.
Meanwhile, production cuts from OPEC and Russia (a block that is keeping 1.2 million bpd off the global market) have opened up more market share for other suppliers. As compared to the Brent international benchmark, U.S. crude exporters have been bolstered in recent months by a $8-10 per barrel discount for WTI. They can generally make money when the spread is at least $3-4.
Thanks to these factors, U.S. crude oil exports have accompanied production in reaching record highs. Sales have even surpassed 3.6 million bpd in recent weeks. For total crude and products, the U.S. has been exporting around 8.2 million bpd. U.S. crude oil exports reached 24 nations in December. South Korea and Canada have been the two primary buyers, taking in 40 percent of total sales in December (see Figure). The UK and Netherlands have also been taking in more than expected.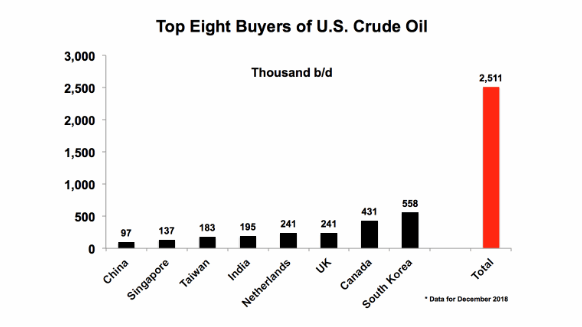 Source: EIA
But the essential goal for the U.S. of course is to better supply the fast growing Asian markets, namely China and India. China is the obvious prime target because it is now the largest oil importer in the world, with crude purchases at 10.3 million bpd in February. Effectively installed in June 2018, however, the U.S-China trade row has been a critical obstacle. China has not officially tariffed U.S. crude but purchases have still plummeted due to CCP pressure on domestic importers.
Up until last June, China had accounted for over 20 percent of all U.S. crude exports, but this sunk to less than 4 percent by the end of December. Even more bearish, U.S. President Trump recently stated that tariffs could remain on China for "a substantial period of time." Now taking just 8 percent of U.S. crude, India's plan to lower purchases from U.S.-sanctioned Iran could open the door more for U.S. exporters. The current speculation, however, is that the largest buyers of Iranian crude, including China and India, will receive waivers from the Trump administration again once the current ones expire in early May.
As for the 1 million bpd of U.S. gasoline exports, neighbor Mexico has been taking around 60 percent. Mexico (21 percent), Brazil (13 percent), and Chile (7 percent) were the main buyers of the 1.4 million bpd of U.S. exports of distillate fuels in December. And Japan purchased 33 percent of the 1.6 million bpd of U.S. natural gas liquids shipped abroad, with Canada second at 15 percent and Mexico third at 9 percent.
Total weekly U.S. crude and product exports should be consistently outpacing imports starting in 2020. The U.S. is now expected to surpass Saudi Arabia as the largest oil exporter before the end of this year. Democratic with a market economy, U.S. oil remains attractive to those nations seeking to buffer the outsized influence of OPEC and Russia. To reach full potential, however, the U.S. needs more pipelines and deeper and wider ports along the Gulf of Mexico to access larger crude carriers.
Generated by readers, the comments included herein do not reflect the views and opinions of Rigzone. All comments are subject to editorial review. Off-topic, inappropriate or insulting comments will be removed.