Kawasaki Launches Pioneering Hydrogen Vessel
|
Wednesday, December 11, 2019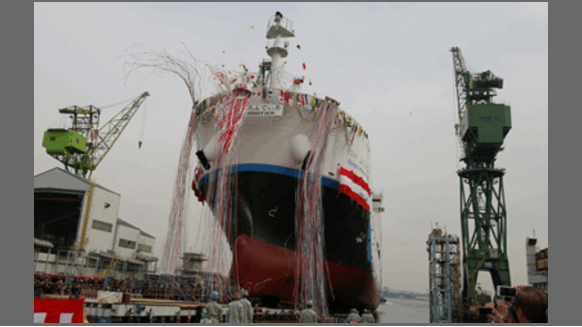 This photo shows the launch of the Suiso Frontier liquefied hydrogen carrier at Kawasaki Heavy's Kobe Works. PHOTO SOURCE: Kawasaki Heavy Industries, Ltd.
Kawasaki Heavy Industries, Ltd. aims to make hydrogen just as common a fuel source as petroleum and natural gas, and the Japan-based firm has just taken a step toward achieving that goal.
On Wednesday Kawasaki reported that it has officially named and launched the world's first liquefied hydrogen carrier – Suiso Frontier – at its Kobe Works shipyard.
Integrating Kawasaki hull number 1740, the vessel will provide a means of transporting liquefied hydrogen at one-eight-hundredth of its original gas-state volume cooled to -253 degrees Celsius (-423.4 degrees Fahrenheit) safely and in large quantities by sea, Kawasaki noted in a written statement.
By comparison, liquefied natural gas (LNG) is cooled to approximately -162 degrees Celsius (-260 degrees Fahrenheit) and takes up roughly one-six-hundredth of the volume of natural gas in its gaseous state, according to the Washington, D.C.-based Center for LNG.
"Hydrogen is gaining popularity as a key next-generation energy source to combat global warming," Kawasaki stated Wednesday. "It does not emit CO2 or other greenhouse gases during use, and expected applications include power generation, fuel cell vehicles and more."
Kawasaki noted that it will install a 1,250-cubic-meter double-shell-structure liquefied hydrogen storage tank – currently being manufactured at the company's Harima Works facility – on Suiso Frontier. The firm expects the vessel's construction to conclude by the end of 2020. It added that it plans to use the ship in technology testing during Japanese fiscal year 2020 to support establishing an international hydrogen energy supply chain.
According to a supply chain demonstration graphic posted to Kawasaki's website, hydrogen would originate from unused brown coal mined in Australia and be gasified, refined and liquefied in that country. The newly unveiled vessel would then carry liquefied hydrogen to Japan. Kawasaki is part of an organization called Hydrogen Energy Supply-chain Technology Research Association (HySTRA) that is overseeing construction of a coal gasification facility in Australia as well as marine transport of hydrogen and its unloading in Japan. HySTRA owns the diesel-electric-powered Suiso Frontier, and other members of the group include:
Iwatani Corp.
Shell Japan Limited
Electric Power Development Co., Ltd. (J-POWER)
Marubeni Corp.
JXTG Nippon Oil & Energy Corp.
Kawasaki also noted that it is part of a separate consortium that is building a gas refining facility and hydrogen liquefaction and loading terminal in Australia with financial support from the Australian and Victorian governments. Other members of the second consortium include Iwatani, J-POWER, Marubeni, Sumitomo Corp. and AGL Loy Yang Pty Ltd.
According to Kawasaki, the Suiso Frontier launch marks the company's latest milestone in facilitating the marine transport of large volumes of super-chilled fuels. The company stated that in 1981 it became the first Asian company to build an LNG carrier.
"(N)ow, as the world's first company to complete a liquefied hydrogen carrier it will further its efforts toward achieving a Hydrogen Society," the firm concluded.
To contact the author, email mveazey@rigzone.com.
Generated by readers, the comments included herein do not reflect the views and opinions of Rigzone. All comments are subject to editorial review. Off-topic, inappropriate or insulting comments will be removed.