Italy's New LNG Plant Receives Maiden Delivery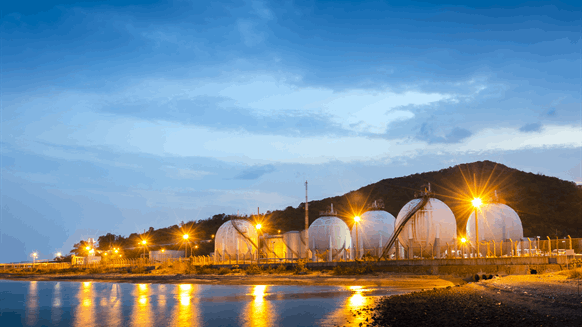 The delivery paves the way for the startup of a project Eni said can serve about seven percent of domestic demand.
Image by 1715d1db_3 via iStock
Italy's newest and fourth regasification facility has received its first liquefied natural gas (LNG), paving the way for the startup of a project supplier Eni SPA said can serve about seven percent of domestic demand.
The supply came from Egypt, among several countries in Africa where state-controlled Eni has strengthened its presence to help Italy achieve independence from Russian energy.
The global oil and gas giant on Friday started offloading the cargo for the terminal in the Tuscan port town of Piombino, which can process up to 176.57 billion cubic feet (five billion cubic meters) a year, Eni said in a press release.
The consignment of six million cubic feet (170,000 cubic meters) will be used to test the plant, transporter Snam SPA said in a separate announcement.
"The arrival of the first load of gas, which will allow us to carry out the plant's testing and fine-tuning operations, is another important step in equipping the country with an infrastructure that is fundamental to the security and diversification of supplies", Snam chief executive Stefano Venier said in the announcement.
Eni said: "The LNG was produced at Egypt's Damietta liquefaction plant, one of the facilities where Eni has invested with the strategic goal of growing its integrated liquefied gas portfolio".
It has also bolstered operations in other African countries as Italy works to phase out Russian energy.
In response to President Vladimir Putin's invasion of Ukraine, the European Union is eyeing to eliminate Russian fossil fuels "well before 2030", as stated in the 27-member bloc's "REPowerEU" plan published March 8, 2022. Eni has said its phaseout could be achieved before 2025.
In one of the latest of Eni's African projects, Congo-Brazzaville's first natural gas liquefaction facility had its stone-laying April 26. Congo LNG, on the Marine XII oil and gas field, is expected to produce as high as three million metric tons of LNG yearly starting 2025. It will enable exports mainly to Europe, Eni said last month.
In Libya during Prime Minister Giorgia Meloni's visit in January, Eni signed a $8-billion investment to develop two gas fields to supply Libya and Europe, as announced by the company January 28.
"Leveraging its strong relations with the countries where it operates and its trademark fast-track project development approach, Eni has increased the volumes of available gas from Algeria, Libya and Italy and increased the number of LNG cargoes from Egypt, Congo, Qatar, Angola, Nigeria, Indonesia and Mozambique", it said.
Eni added: "Piombino's new regasification capacity will help implement Eni's plan to completely replace Russian gas by 2024-2025 and increase the availability of gas for the country, with potential benefits in terms of prices and competitiveness of Italy's industrial and economic system".
To contact the author, email jov.onsat@rigzone.com