Intensity of US Oil, Gas Methane Emissions Down: Report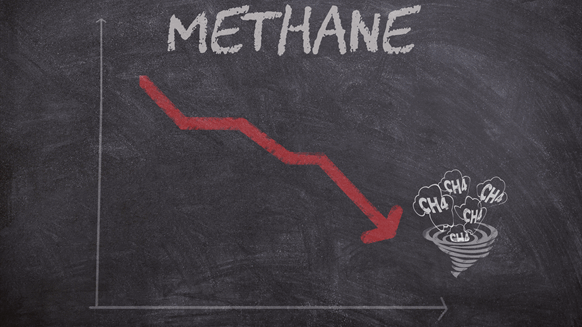 The intensity of methane emissions from oil and gas production in the USA reportedly fell 28 percent between 2019 and 2021.
Image by No-Mad via iStock
The intensity of methane emissions from oil and gas production fell 28% between 2019 and 2021 among the industry's 100 biggest emitters. Greenhouse gas emissions intensity — which includes carbon dioxide, nitrous oxide and methane — dropped 30%, according to an analysis of public data published today by the nonprofits Clean Air Task Force and Ceres, and ERM Group Inc.
The organizations' goal in pursuing the study, the third annual version, is to make it easier to compare greenhouse gas emission data that regulated companies submit annually to the US Environmental Protection Agency. The oil and gas industry's CO2 emissions mostly come from burning fossil fuels during the production process or flaring methane, which converts methane to carbon dioxide. Methane is 81 times more powerful than CO2 in the medium term (20 years).
Methane intensity is a ratio of emissions and produced gas. Greenhouse gas intensity is calculated as each company's CO2, methane (CH4) and nitrous oxide (N2O) emissions divided by produced gas and its oil sales. This year's results reflect a decline in the total emissions reported to the EPA and an increase in oil and gas production.
The authors hope their analysis of emissions intensity helps standardize reporting across the industry, to make clearer who's emitting how much. For example, the report shows that Hilcorp Energy Co., a Houston-based oil and gas producer, is the top two emitter, behind ConocoPhillips — even though it's the 12th largest producer. Hilcorp produces half the oil and gas of the largest producer, Exxon Mobil, and in 2021 put out 108% of the latter's emissions.
Hilcorp increases its production mainly by buying aging oil-and-gas facilities, many of which can emit a lot before they're renovated. After acquisitions, the company invests in new infrastructure and equipment, thereby reducing emissions while raising output, said Nick Piatek, a Hilcorp spokesperson. He said it takes several years to update new production and the new "report only provides a nearly two-year-old snapshot."
The sizable average emissions intensity decline from 2019 to 2021 masks annual fluctuations among companies and the basins they operate in, and also a growing gap between the polluters with the highest and lowest intensity. Companies in the top 25 have an average methane emissions intensity that's 26 times higher than those in the bottom quarter. For greenhouse gases, the top quarter's average emissions intensity is 13 times the bottom quarter's.
"Some companies are doing more on their own, which is great," said Lesley Feldman, research and analysis manager at Clean Air Task Force and a report author. "But not all companies will, and we need strong regulations to ensure that all companies throughout the whole industry are meeting the same basic standards."
Nearly two-thirds of methane emissions is tied to a class of machines called pneumatic controllers, which manage pressures or temperatures in a production system, according to the report. The EPA in November issued a proposal that would lead to companies replacing this equipment with cleaner alternatives. Hilcorp removed 14,000 pneumatic devices in 2022, Piatek said.
Nitrous oxide, which is a much smaller contributor to industry emissions, is 273 times stronger than CO2.
In parsing the EPA data, the report leaves out unreported emissions that come from major leaks and emissions from smaller producers that emit less than the agency's annual threshold of 25,000 metric tons of CO2 or its equivalent in other greenhouse gases.
Harder than compiling the data is attributing what causes changes year to year, company to company, region to region. Policy helps, Feldman said. The report notes several developments that may be helping reduce production-related emissions. The EPA last year proposed standards that may lead states to require regular leak detection and repair at all sites, special vigilance for detecting runaway emission events or replace gas-emitting pneumatic controllers with newer, clean and cost-effective alternatives. A provision of the Inflation Reduction Act, called the Methane Emissions Reduction Program, directs $1.55 billion to EPA emission-reduction efforts. Another provision will charge regulated producers who pollute above a legal threshold.
"Those policies are sending a signal to operators that they need to clean up their act," Feldman said.
Growth is a major driver of fluctuation in companies' methane and greenhouse gas intensity numbers. Caerus Oil and Gas LLC, for example, is the 47th biggest producer but the ninth biggest emitter. It completed two acquisitions in 2020 and 2021 that boosted the number of oil and gas operations it runs, which are reflected in the new report, said Kristen Lingley, director of stakeholder affairs. To identify and cut emissions, the company has invested in facility flyovers, voluntary leak detection in repair and a major pneumatic device replacement drive.
Devon Energy said in a statement that among other investments, it's improving its leak detection and repair program, reducing gas-flaring, electrifying facilities where it can and redesigning facilities to eliminate common equipment failures. The company expects to reach net-zero emissions by 2050 for its direct and indirect energy use, and is engaged in improvements to emissions measurement through initiatives that include the Oil & Gas Methane Partnership 2.0 and GTI Veritas.
Some of the biggest companies claim the biggest gains so far. Exxon Mobil more than halved its methane intensity and company-wide flaring-intensity (or cubic meters of gas per ton of produced oil) since 2016, according to a statement. The company says it has improved its leak detection and repair. It expects to eliminate pneumatic devices by 2025 in "key US unconventional operated assets." In line with the World Bank Zero Routine Flaring Initiative, Exxon Mobil has ended routine flaring in the Permian Basin.
ConocoPhillips and Occidental Petroleum Corp. did not return requests to comment before publication time.
What do you think? We'd love to hear from you, join the conversation on the Rigzone Energy Network.

The Rigzone Energy Network is a new social experience created for you and all energy professionals to Speak Up about our industry, share knowledge, connect with peers and industry insiders and engage in a professional community that will empower your career in energy.