India Refining Capacity to Grow Five-plus Percent Annually
|
Monday, January 21, 2019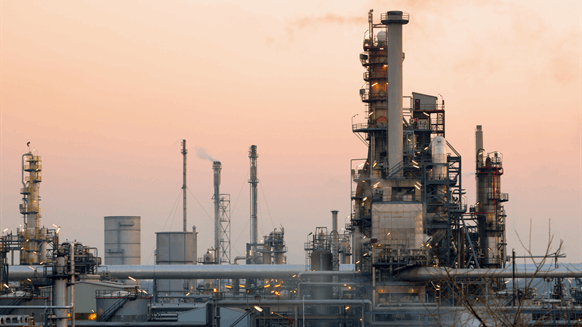 Just three of India's refineries will account for more than one-quarter its refining capacity in 2023, states report.
India's total refining capacity is set to grow at an average annual growth rate (AAGR) of 5.3 percent until 2023, according to a new report from the data and analytics firm GlobalData.
"India's crude oil refining capacity is growing rapidly to meet burgeoning demand for petroleum products," Soorya Tejomoortula, GlobalData oil and gas analyst, said in a written statement emailed to Rigzone. "The booming automobile and aviation sectors, fast urbanization and growing use of liquefied petroleum gas (LPG) for cooking are the major drivers for refined products in the country."
According to the report, "India Crude Oil Refinery Outlook to 2023," India's total refining capacity will hit 6.525 million barrels per day (MMbpd) in 2023. By comparison, the figure for 2018 was 5.01 MMbpd, the firm noted. In addition, GlobalData stated that India's share of Asia's crude oil refining capacity through the period should remain steady at 15 percent – second in the region to China.
At a refining unit level, GlobalData predicts the following changes at India's refineries from 2018 to 2023:
Total coking capacity will increase from 1.035 to 1.147 MMbpd
Total catalytic cracker unit capacity will increase from 991,000 to 1.21 MMbpd
Hydrocracking unit capacity will increase from 607,000 to 1.064 MMbpd
In 2023, three of India's 23 refineries will account for more than one-quarter of India's 6.525 MMbpd refining capacity. They include the Jamnagar II (704,000 bpd), Jamnagar I (660,000 bpd) and Vadinar (405,000 bpd) facilities, GlobalData stated. The firm also pointed out that two noteworthy refining projects in India within the next five years include:
The planned 180,000-bpd Barmer refinery, which is expected to start operations in 2022
The announced 400,000-bpd Jamnagar III refinery, set to start operations in 2023
Generated by readers, the comments included herein do not reflect the views and opinions of Rigzone. All comments are subject to editorial review. Off-topic, inappropriate or insulting comments will be removed.