IIoT Tech Seeks to Crack the Knowledge Transfer Code
by Matthew V. Veazey
|
Rigzone Staff
|
Tuesday, June 12, 2018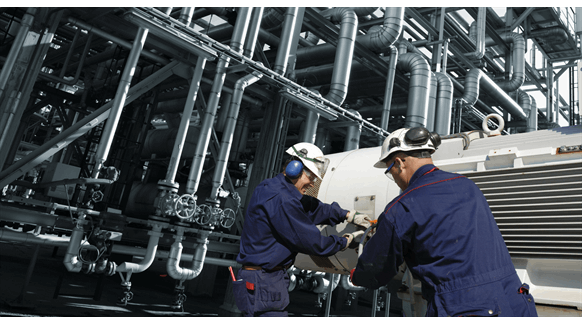 A new wearable technology system is designed to ease the transfer of institutional knowledge from one generation to the next.
When one departs a drilling rig, refinery or other oil and gas facility for the last time to begin retired life, he or she leaves with decades' worth of memories. A new wearable technology system is designed to ensure that some of those memories stay behind.
"I think the industry hasn't yet cracked the code," Youssef Mestari, program director, Honeywell Connected Plant, told Rigzone. "Approximately 50 percent of the oil and gas workforce is expected to retire over the next 10 years. What is the industry doing to try to keep that expertise?"
Honeywell's Industrial Internet of Things (IIoT)-based answer – called "Honeywell Connected Plant Intelligent Wearable" – is one part body camera and one part cloud-based computer. The unit, fitted onto a hardhat and reliant on a Wifi connection and access to cloud-based databases, is designed to ease the transfer of institutional knowledge from one generation to another in a plant or field environment – and to do so efficiently.
"The new generation wants to learn quickly, they have a different mindset," said Mestari, pointing out that said mindset favors having instantaneous access to information.
The IIoT system integrates a helmet fitted with a video camera that captures a veteran employee's movements and narrate accordingly, allowing him or her to create videos to show others how to perform various processes on the job. The idea is to encourage retiring workers – and others with extensive skill sets – to create an ever-growing library of relevant, "real-world" videos on actual equipment that rookies can refer to as needed to learn step-by-step, repetitive tasks. Stored in the cloud, the videos can be accessed from various types of devices hands-free via verbal commands from the user.
In addition to providing ready access to instructional videos, the IIoT system also connects to an array of sensors at a facility to provide instant access to real-time operating data and ease collaboration with colleagues both onsite and off. According to Honeywell, the technology's capabilities include:
Operator task automation, including guided work instruction and procedures plus visualization of documents to aid field work
Real-time live data visualization
Video capture and playback searchable by voice
Video chat with offsite on-call experts
Geo-localization, navigation and asset visualization
Guidance in the event of an emergency evacuation
Man-down assistance that locates the affected individual and notifies emergency personnel for help
A 'Virtual Mentor'
Mestari pointed out the video chat feature enables a remotely based expert to act as a "virtual mentor" because he or she can view what the user sees with a setting called "See What I See" (SWIS) mode and provide guidance accordingly. He noted that such virtual mentors are particularly helpful in explaining how to perform non-repeatable tasks.
Ultimately, Honeywell maintains that its Intelligent Wearable bundle – with its ready access to an ever-expanding repository of institutional operational knowledge – is designed to mitigate human error through information transparency.
"Workers carry with them decades of relevant expertise that is accessible at any time by simple voice activation," concluded Mestari. "All the secrets are shared and all the secrets are applied. Every operator can be the best operator."
Generated by readers, the comments included herein do not reflect the views and opinions of Rigzone. All comments are subject to editorial review. Off-topic, inappropriate or insulting comments will be removed.