How to Save the Service Station
by Matthew V. Veazey
|
Rigzone Staff
|
Tuesday, July 16, 2019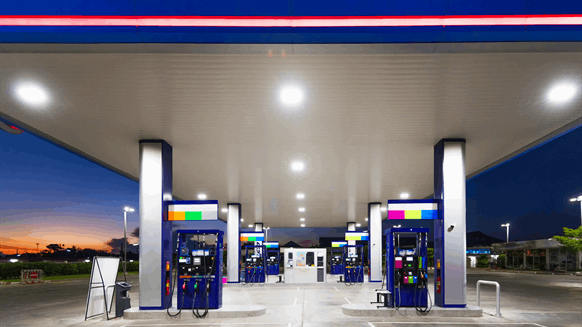 Technological and cultural trends are changing the landscape of fuel retail.
By 2035, eight in 10 fuel retailers could be unprofitable.
So predicts Boston Consulting Group (BCG), which recently released a report that lays out several possible scenarios shaped by increasingly prominent technological and cultural trends.
"We see three primary drivers changing the landscape of fuel retail," said Tony Portera, Dallas-based managing director with BCG, who wrote the report "Is There a Future for Service Stations?" with colleagues Mirko Rubeis, Stuart Groves and Giuseppe Bonaccorsi.
Portera noted the first driver is the growing popularity of alternative fuel vehicles, including electric vehicles (EVs). He pointed out that advances in technology and regulation are spurring consumers to increasingly embrace such vehicles.
"Second, trends in advanced mobility where ride-hailing services and autonomous vehicles change customer habits, especially in large and mid-size cities," Portera continued. "Finally, shifting customer expectations in both what customers want and how they want to receive it. The definition of convenience is changing as online retail and delivery options become a more meaningful component of people's lives around the world."
BCG has observed effects of the trio of drivers throughout the global fuel retail market. Portera commented that divestiture, consolidation and a shift away from selling just fuel represent initial responses to market forces, adding the trend is most evident in – but not exclusive to – developed countries with larger cities.
"The customer-driven fuel retailers are growing revenue and profitability at much higher rates while many primarily fuel-focused locations are seeing margins squeezed, putting them at risk in future business technological cycles," said Portera.
The BCG report outlines four market environment scenarios that will likely grow in prominence through 2035 and influence fuel retailer profitability in different ways. The study's authors liken the four scenarios to "signposts" that can help retailers recognize market changes and assess how they will affect their businesses. The scenarios include:
Fossil fuels represent 90 to 95 percent of the fuel mix, with EVs making up the remainder. The adoption of digital and advanced mobility also increases under this scenario.
Fossil fuels make up 50 to 60 percent of the fuel mix, with their dominance threatened by EVs and the widespread adoption of digitization and advanced mobility.
Only 20 to 25 percent of the fuel mix comprises fossil fuels, with EVs accounting for 45 to 60 percent and other alternative fuels such as hydrogen and biofuels commanding a 20- to 30-percent share. Digital also represents a central factor in consumers' lifestyle and mobility in this market environment.
EVs and autonomous vehicles command 70 to 80 percent of the fuel mix, with fossil fuels reflecting the remaining – and shrinking – share. Again, consumers' lifestyle and mobility rely on digital in this case.
"We would encourage fuel retailers to contemplate their footprint and decide which of the four market scenarios we list in the article describes their future and play forward how the scenario works out for them if they do not evolve," said Portera.
In addition, Portera predicted BCG's "game theory exercise" will influence how fuel retailers gauge how much their organizations need to adapt to three specific changes.
"First, becoming more customer-centric to leverage every aspect of the trusted brand and real-estate they have and shifting their offer to include additional products and services customers want," said Portera. "Second, transforming their physical network of locations and assets to meet the future needs of their customers. Finally, developing new capabilities in digital and personalization to deepen their relationship with the customers who will carry them through the market shifts ahead."
Although it is too soon to determine which fuel retailers will likely be most rewarded from the market changes underway, and vice versa, Portera predicted that a significant portion of fuel retailers will lose out while others prevail.
"The winners will recognize the future is not just about pumping gallons, it is about meeting the ever-evolving needs of their customers starting with mobility and building from there," he said. "In markets where the changes are most dramatic, remaining relevant will require a complete reimaging of the service station."
Portera also emphasized that – despite BCG's projection that up to 80 percent of the fuel market could be unprofitable by 2035 – fuel retailers can and should capitalize on potential growth areas.
"This is an exciting time in fuel retail," he concluded, "Technology and consumer preferences are both inviting us all to innovate. The future winners will embrace this opportunity for change, contributing to a future that is both attractive to the customer and profitable to the fuel retailer."
To view the report, visit BCG's website.
Generated by readers, the comments included herein do not reflect the views and opinions of Rigzone. All comments are subject to editorial review. Off-topic, inappropriate or insulting comments will be removed.
MORE FROM THIS AUTHOR
Matthew V. Veazey
Senior Editor | Rigzone