How Rising Oil Prices Can Be a Mixed Blessing
by Matthew V. Veazey
|
Rigzone Staff
|
Thursday, April 25, 2019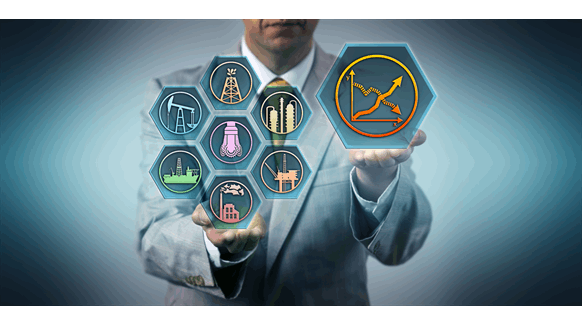 Higher oil prices can actually harm energy firms' CapEx programs, study concludes.
Since Jan. 2 of this year, when the per-barrel prices of West Texas Intermediate (WTI) and Brent crude oil settled at $46.54 and $54.91, respectively, oil futures have risen by more than 30 percent.
Although higher crude prices boost oil and gas companies' profitability and please shareholders, they can be harmful to firms from a capital spending standpoint.
That is the conclusion of a recent Boston Consulting Group (BCG) study of 365 upstream projects reaching final investment decision (FID) between 2003 and 2017 – during periods of higher and lower oil prices. The BCG research team concluded that during high-price periods, capital projects were dramatically more likely to exceed original time estimates and anticipated budgets than during leaner periods. Moreover, they found that five "troublesome behaviors" tend to emerge when prices are higher. These behaviors include:
Management demands unrealistic project timelines and middle management tries to make top executives happy by promising more than they can deliver.
Companies often fast-track the front-end engineering design (FEED) phases of capital projects, diminishing project performance during construction.
Firms "gold-plate," or add redundant structural elements, to the project's FEED phase, accelerating the start of construction at the expense of optimizing cost levels.
Project owners act as passive monitors during construction rather than actively collaborate with the contractor.
Owners misalign contractor payment incentives through lump-sum agreements that fail to facilitate risk anticipation and mitigation.
In a recent interview with Rigzone, BCG Partner and Managing Director Matt Parsons elaborated on some of the findings. Excerpts from the interview follow.
Rigzone: What's driving the "gold plating designs" issue that BCG notes in the study results, and isn't some degree of redundancy good from a safety perspective?
Matt Parsons: Redundancy requirements are often a critical large capital scope driver and are indeed central to asset safety. However, it is important that these follow from a foundational definition of what is truly required through a formal requirements definition process with project sponsors and stakeholders. These elements of scope, however, do not constitute "gold plating."
In project management, there are two sources of scope variation that are unhealthy. The first is "scope creep" where uncontrolled changes are made to requirements after approval by sponsors resulting in increases in project scope, without modification or assessment of cost and schedule implications. This should, but often is not, governed by an integrated change control and approval process. The second is "gold plating," defined as intentionally adding project features or functionality that were not included in the approved scope statement to satisfy a customer or stakeholder. In both cases, if you asked the sponsor, the changes would be undesired or in excess of their minimum conditions of satisfaction and generally increase project cost, like in the wellpad structure example that we provide in the article.
Lastly, supply chain variability could be reduced in consultation with vendors and partners if the industry aligned on a common set of technical specifications for common pieces of equipment under typical operating conditions. This would lead to standards simplification and result in both lead time reduction and generate economies of scale as larger portions of the upstream supply chain reduced the fraction of "engineered-to-order" components in capital delivery. Ballooning standards and specifications may seem creative but do not positively influence capital project outcomes.
Rigzone: Have you seen any trends in terms of companies changing the scale of upstream projects to counteract "troublesome behaviors"?
Parsons: As mentioned in the article, we do see players in the oil and gas industry taking a fundamentally different approach to capital project portfolio development, to scope definition, to value engineering and to intrusiveness and oversight of the development and delivery of their portfolios during periods of low oil prices relative to high oil prices … While there are obviously some projects that overlap periods, it became clear that project scopes undertaken during the low oil price periods were undertaken with generally reduced scope and capital intensity. Based on our observations, this does not happen by accident or coincidence.
To understand how and why this came to pass it is important to understand the origins of the conventional project management approach that underpins not just the project development and execution approaches of the oil and gas companies, but of the project management function broadly. Martin Barnes, the founder and former president of the Association for Project Management (APM), the professional body for project managers in the U.K., first articulated the "iron triangle" of time, cost and output in 1969.
Since then it has become generally accepted belief within the project management community that the "iron triangle" dictates outcomes – define two sides of the triangle and the third side of the triangle is dictated by the first two. So, during low oil price periods, oil and gas companies tend to select portfolios during annual business planning processes based on affordability. Lower-cost projects are often selected to meet this constraint as higher-cost projects tend to be crowded out and shelved. Additionally, the companies simultaneously embark on "pencil sharpening" or value engineering/concept and design optimization approaches to further improve affordability through scope reduction. This effectively results in defining two sides of the triangle – cost and scope – and the net result of these efforts was a 41-percent average reduction in duration, or schedule, as indicated in the article.
However, in recent years, we have seen pioneering oil and gas companies begin to question whether the iron triangle can be broken – and, more specifically, whether enhanced scope, cost and schedule outcomes can be achieved without compromise. After all, the thinking that these "constraints" can be broken, first by manufacturing, has unlocked massive productivity gains over the last 50 years, while construction productivity has stagnated or even declined for some industries and geographies. For example, I sit on the Industry Council of the Project Production Institute, along with representatives from Chevron and Royal Dutch Shell, where we explore how project delivery systems can evolve by applying operations science to production systems to enable multiple constraint optimization without compromise by reducing variability in project production systems. Early results are promising, and this thinking is being incorporated actively into enterprise project delivery systems.
More broadly, many oil and gas companies have begun to exercise a more active and involved leadership role on their projects to break perceived constraints, recognizing that this will require involvement beyond administering contracts.
Visit BCG's website to read the upstream project study, "Why High Oil Prices Can Be Bad for Energy Companies," co-authored by Frédérik Jobert, Björn Ewers, Hashim Rashid and James Reynolds.
Generated by readers, the comments included herein do not reflect the views and opinions of Rigzone. All comments are subject to editorial review. Off-topic, inappropriate or insulting comments will be removed.