HOW COOL IS THAT!: An Accidental Oil and Gas Career
by Matthew V. Veazey
|
Rigzone Staff
|
Tuesday, November 28, 2017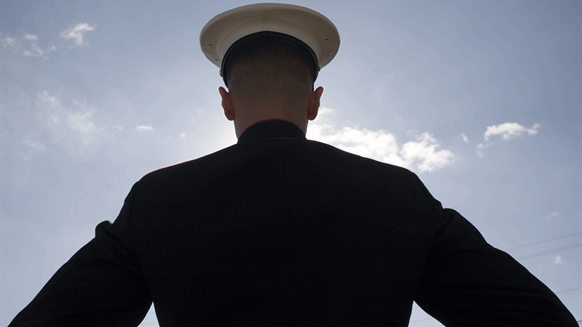 Globe-trotting oil and gas consultant has guarded embassies and Hollywood celebs; initially dreamed of becoming diplomat.
Some oil and gas professionals, such as petroleum engineers and geologists, follow clear, well-defined pathways to obtain the necessary credentials for their chosen careers. Others, such as Eric Roth, take more circuitous routes.
To be sure, Roth – Dubai-based Senior Operational Integrity and Quality Health Safety Security and Environment Director with S-energy Consultants – has completed formal educational training and has earned various professional certifications to qualify as a consultant to drilling and production clients worldwide. However, he has supplemented his professional background with on-the-job experience gained both inside and outside the oil and gas industry. In fact, as he recounts below, joining the oil and gas industry at one point was a "last resort." Read on for details.
Rigzone: How did you get into this line of work?
Roth: Frankly speaking, if you would have asked me a little over 20 years ago, the energy or oil and gas industry would not have been in my future plans. I was in the military (U.S. Marines), working for the State Department in various countries overseas and had planned to be a diplomat when I finished serving in the military. It came totally organically and by surprise, even to me.
After working in the private sector in Hollywood for a couple of years, I was burned out and decided to take a break from all of the non-stop work and West Coast glamour. A friend of mine and I were traveling in South America – Colombia, to be exact – teaching English, and we ran out of money. So as a last resort, us both being originally from the South, we said, 'Let's get jobs offshore,' and we bought one-way tickets back to the States, got jobs as seamen/deckhands on liftboats in the Gulf of Mexico. From there I literally started over from the bottom and worked my way up from cleaning toilets – after having worked for Presidents of the U.S., foreign dignitaries, CEOs, and A-list movie stars – then to various services, such as fluids, well testing, wireline and pressure control, before I decided to use my background to consult directly with oil and gas companies. I have been doing that ever since and have no regrets.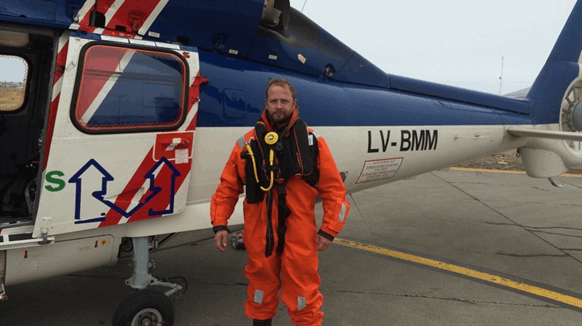 Eric Roth prepares to board a helicopter during a job in southern Argentina.
Rigzone: Looking back at your background – education, work, military – what experiences helped you to succeed as a consultant?
Roth: Wow, there have truly been so many. Growing up in a small city, when I went into the military and was assigned overseas, that really opened by eyes to how many amazing places and experiences are possible in the world, and your knowledge about the world around you increases exponentially because of this. Additionally, because of the intense training, the military changes your mindset and teaches you so many good things which one usually does not learn elsewhere in the private sector. The fact that I was able to go back to school after that just added to what I had already learned, having matured far beyond my years due to the global experiences. I'll always be grateful for that because it made me stronger, smarter and more resilient in the consulting world, where nothing is guaranteed, and one is responsible for creating his or her own success based on their results, relationships, and attitude.
Rigzone: Can you recall any particularly "hairy" instances in your career that really put your skills and experience to the test?
Although Eric Roth consults to clients in the petroleum industry, his firm S-energy Consultants maintains a special interest in water. Through its "Drilling for Drinking Water" charity, the firm raises money to fund water well projects to impoverished communities that lack access to clean drinking water. Moreover, Roth said that he earmarks one-tenth of his yearly earnings to the water projects.
Roth: Great question, and yes, there have been quite a few! The first was when I was still in the military. I was actually the U.S. Marine Sergeant on duty at the American Embassy in Brazil on the morning of Sept.11, 2001, when the Twin Towers were brought down. Immediately every embassy across the globe shut down and, because I was on duty, I had to coordinate everything from there. We were locked down for six days. That was my first crisis situation. Since then, I have been in a few others in the oil and gas industry, including being in Jakarta during the bombing, Nigeria during the nationwide strikes and as part of the Emergency Task Force on a well blowout in Southeast Asia. I can honestly say that I've been put through the fire a number of times and come through and delivered on every occasion.
Rigzone: How is the need for services such as yours in the oil and gas industry changing, and how are you adapting?
Roth: Well, we can all certainly see that the world is changing, and the way we obtain our energy needs is evolving also. Renewable energy is now a viable and significant vehicle for the future. It does not mean that oil and gas is dead or that we will stop drilling and completing wells. However, it does mean we need to adapt and in some cases adjust our scopes to be prepared for the future. This will mean that certain services will see a reduction in demand, and some others (such as those associated with solar and wind energy) will increase. The services we provide will still be required for many years to come. The difference is that there will only be room in the space for the best of the best.
Collaborating and partnering with other respected experts is increasingly important. All of those people and companies who have "just been in it for a quick dollar" or taking advantage of others, will fade, and only the top-tier most reputable firms, consultants and partnerships will remain. If we are not providing the value our clients are paying for or expecting, then there would be no reason for us to be here. If we can provide our services with integrity, generosity and excellence, then we can stay around longer than the others. Personally, I've also adapted by earning qualifications as a Certified Health and Fitness Specialist/Trainer in order to assist other energy and previous tactical professionals (military, police or firefighting) online with their own health and safety goals. This integrates with my current professional consulting within the industry nicely.
1
2
View Full Article
Generated by readers, the comments included herein do not reflect the views and opinions of Rigzone. All comments are subject to editorial review. Off-topic, inappropriate or insulting comments will be removed.