Hess-Targa Gas Plant to Curb Bakken Flaring
by Rigzone Staff
|
Thursday, January 25, 2018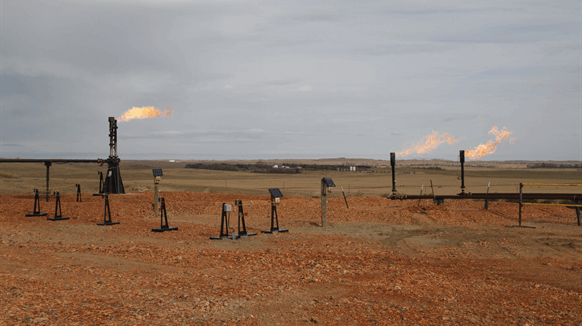 New gas plant to support North Dakota's flaring-reduction goals, says governor.
Hess Midstream Partners LP and Targa Resources Corp. have formed a 50/50 joint venture to build a new 200 million standard cubic feet per day dry gas processing plant near Targa's existing Little Missouri facility in McKenzie County, North Dakota, Hess Midstream announced Thursday.
"The Little Missouri Four Gas Processing Plant demonstrates our commitment to executing our strategy by providing additional Bakken basin processing capacity, which provides another layer of organic growth to meet our long-term targeted annual distribution per unit growth," John Gatling, Hess Midstream's chief operating officer, said in a company statement. "By executing infrastructure projects that provide more optionality to producers, Hess Midstream expects to continue to capture additional Hess and third-party volumes, reinforcing the competitive advantage we enjoy from our strategically located infrastructure in the core of the Bakken."
According to Hess Midstream, Targa will manage construction of the approximately $150 million Little Missouri Four (LM4) plant and operate the facility. Hess TGP Operations L.P. – owned on a 20/80 basis by Hess Midstream and Hess Infrastructure Partners LP (HIP), respectively – will hold Hess Midstream's 50-percent stake in the gas plant, the company added. In addition to contributing a total of $75 million to the plant's construction, Hess Midstream said the two Hess units will invest approximately $100 million toward new pipeline infrastructure to gather volumes to LM4.
"The joint venture with Targa and related investments are expected to be fully integrated into our existing contract structure," said Jonathan Stein, Hess Midstream's chief financial officer. "This reinforces the competitive advantage we have through our long-term contracts with Hess Corporation, which are 100 percent fee-based and design to deliver stable and growing cash flows while providing downside protection."
North Dakota Gov. Doug Burgum called the investment "a huge step in the right direction toward continuing to meet our flaring reduction goals and encouraging responsible energy development and infrastructure investment."
"We are thrilled to welcome Hess' significant investment, which underscores the company's longstanding presence in North Dakota and commitment to our state," continued Burgum. "This processing plant will provide much-needed capacity at a time when North Dakota's oil production nears record levels and associated natural gas continues to climb."
According to Hess Midstream, the new plant will augment the company's total Bakken gas processing capacity to 350 million standard cubic feet per day. Moreover, Hess said the facility will boost export capabilities north and south of the Missouri River and that the company will retain the option to further expand processing capacity by de-bottlenecking the Tioga Gas Plant. Also, it said that deferring the planned 2019 turnaround at Tioga is likely.
Hess Midstream anticipates a Fourth Quarter 2018 completion of LM4.
Generated by readers, the comments included herein do not reflect the views and opinions of Rigzone. All comments are subject to editorial review. Off-topic, inappropriate or insulting comments will be removed.
MORE FROM THIS AUTHOR
Rigzone Staff
e-mail us at news@rigzone.com