Helmerich & Payne's Land Revenue Drops in 1Q
|
Wednesday, February 05, 2020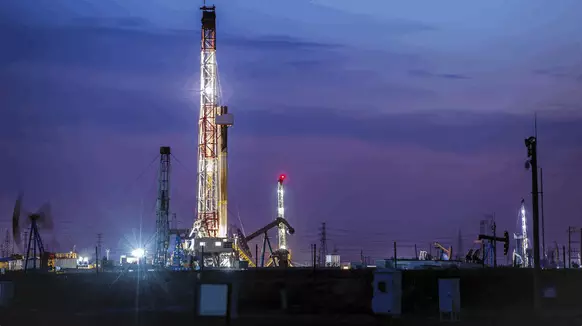 However, H&P managed to gain market share during the quarter even as the industry rig count declined.
Helmerich & Payne Inc. saw 1Q income of $31 million from operating revenues of $615 million for the quarter ending Dec. 31 2019, compared to net income of $41 million, on revenues of $649 million for the previous quarter.
"As we look back on the challenges the industry experienced in 2019, our leadership position and performance continued to demonstrate our ability to deliver value while adapting to rapidly changing market conditions," President and CEO John Lindsay said in a statement. "This quarter's results reflect the momentum of those successes."
H&P managed to gain market share during the quarter even as the industry rig count declined. The company attributed the activity to a growing preference for super-spec rigs and their related performance.
"We believe this replacement trend will persist as our super-spec FlexRig fleet's performance and efficiency gains create value for our customers."
While performance and commodity-based contracts made up 10 percent of the company's U.S. contract mix during the first fiscal quarter, today it has 15 percent of its active U.S. FlexRig fleet contracted under non-traditional dayrate contracts, the majority of which are performance-based contracts, according to the company.
"We are encouraged as we head into fiscal 2020. For the first time in four quarters our ending rig count was sequentially higher than the previous quarter's ending rig count. We believe capital discipline by our customers will remain a prevailing theme and we expect industry activity to look similar to the average level experienced during the second half of calendar 2019, which implies a modest increase from current levels."
Senior Vice President and CFO Mark Smith also commented, "H&P's cash flow from operations during the first fiscal quarter was impacted by several seasonal and one-time events. We expect it to be higher in the remaining quarters of the fiscal year. Our fiscal 2020 capex budget remains in the range we initially set, which is between $275 and $300 million."
In a Feb. 4 research note, James West, Senior Managing Director & Partner, Evercore ISI, said one of the key takeaways from Helmerich & Payne's 1Q earnings call was the significant progress the company is making changing "the grossly outdated land rig pricing model".
"The company has been working on this shift for about a year and the adoption rate of non-traditional contracts appears to be accelerating," West stated. "This new model is a true partnership with the customer base and is a 'win-win' in our view as the customer also saves when performance metrics are achieved. The company commented that during fiscal 4Q about 10 percent of its rigs worked on non-traditional contracts; however, this has improved to 15 percent today. We believe further gains are ahead."
Helmerich & Payne 1Q Highlights:
Quarterly U.S. Land revenue decreased $36 million to $509 million sequentially, while operating gross margins decreased by $7 million to $182 million sequentially; revenue days decreased 6 percent to 17,684 from 18,765 in the prior quarter
Both quarterly U.S. Land adjusted average rig revenue of $25,397 per day and U.S Land adjusted average rig margin of $10,410 per day were roughly flat sequentially
H&P's drilling automation technology, AutoSlideSM, has been commercially deployed in six U.S. shale basins, and has drilled over 150 wells and 2.6 million feet
Approximately 10 percent of the company's active U.S. FlexRig® fleet operated under non-traditional dayrate contracts during the quarter
To contact the author, email bertie.taylor@rigzone.com.
Generated by readers, the comments included herein do not reflect the views and opinions of Rigzone. All comments are subject to editorial review. Off-topic, inappropriate or insulting comments will be removed.