Guyana Nears Oil and Gas Turning Point
|
Tuesday, October 08, 2019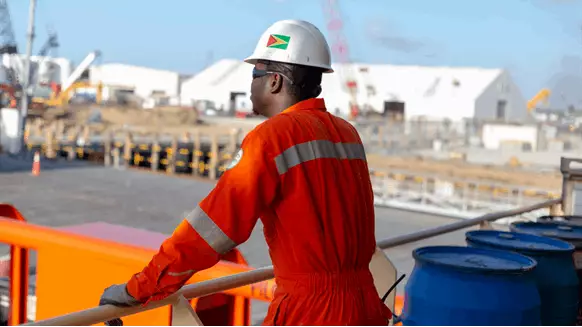 One of RAMPS Logistics' employees in Guyana. PHOTO SOURCE: RAMPS Logistics
A developing English-speaking country on South America's Atlantic coast, Guyana is about to become a major oil producer.
In August the Liza Destiny floating, production, storage and offloading (FPSO) vessel reached the Exxon Mobil Corp.-operated Stabroek Block offshore Guyana. The FPSO will tie back to eight production wells and yield up to 120,000 gross barrels of oil per day starting next year. After Liza Destiny, ExxonMobil may deploy four more FPSOs to Stabroek and produce more than 750,000 bpd of crude by 2025. Besides ExxonMobil, international firms that are also active offshore Guyana include Tullow Oil plc, Total S.A., Hess Corp., Qatar Petroleum and others.
Revenues from oil production could dramatically enhance Guyana's economic fortunes and the lives of its nearly 800,000 people. For starters, the World Bank has reported that the country's annual gross domestic product growth rate is expected to rise from 4.6 percent this year to 34 percent in 2020.
"Well managed oil revenues can have a transformative and sustainable impact on a country's development," Tahseen Sayed, World Bank Country Director for the Caribbean, said in an April 2, 2019, written statement. "Guyana today has an extraordinary opportunity to reduce poverty and bring long-term benefits to its people."
Through its Guyana Petroleum Resources Governance and Management Project, the World Bank is providing technical assistance to help Guyana's government develop a legal and regulatory framework to properly manage the pending influx of oil revenues. In effect, the initiative is aimed at helping Guyana to avoid the "resource curse."
Anish Kapadia, UK-based oil and gas analyst with Akap Energy Ltd., told Rigzone that a common pattern has historically played out when abundant volumes of a recoverable natural resource have been discovered in poor countries:
The country's government spends what it expects to earn in the future, taking on debt.
Inflation can rise, impeding the development of other industries.
Companies operating in the countries struggle to get things done because there is no clear regulatory framework.
Local citizens become frustrated at the lack of any tangible benefits they initially see from the resource finds.
Kapadia points out the speed at which ExxonMobil and its partners have been able to develop the Liza field proves that offshore projects can be executed efficiently in Guyana. Moreover, he said that Guyana's government so far has placed no significant hurdles to stymie companies' progress.
"Exploration licenses have been renewed by the government rather than the government letting them lapse," said Kapadia, adding that the government has been open to renegotiating license commitments.
Furthermore, he noted offshore industry players have enjoyed "very attractive" fiscal terms in Guyana that have provided high returns to the investors. In addition, he said the government "has been vocal so far" about not changing the terms of past signed contracts and that no significant local content is required.
To be sure, Kapadia said the country still needs to act on various fronts as its oil industry develops. He cites the following as ongoing needs:
A clear plan for managing its role as a significant oil producer, including setting up a sovereign wealth fund to manage its wealth and implementing a plan to invest in other industries – particularly sectors complementary to oil and gas
Finding a use for associated gas – some options include domestic power, fertilizer production and liquefied natural gas exports
Managing competing oil developments and creating a domestic oil services sector.
The experiences of two resource-rich African countries might be instructive for Guyana, said Kapadia.
"A positive example over the last decade or so is Ghana, which has grown into a significant oil and gas producer," he said. "It saw one of the record developments in terms of time from discovery to first oil and since then has seen a number further developments and gas being developed, too."
At the other end of the spectrum is Uganda, which boasts a lower-risk onshore commercial discovery that precedes the major find in Ghana but has not even been sanctioned yet, noted Kapadia.
"This is very much due to the government, which has looked to squeeze out as much economic rent with disregard to the overall negative impact of delaying production and cash flows," he explained.
A View from Guyana
One participant in Guyana's burgeoning oil and gas industry is RAMPS Logistics, which provides customs brokerage, marine agency and shorebase management services for ExxonMobil in Guyana and Trinidad. The Trinidad and Tobago-based firm also provides logistics, manpower and various other services to a who's who of industry players. Some of RAMPS' clients other than ExxonMobil include Tullow, Halliburton, Saipem, Schlumberger and Stena Drilling.
Javed Razack, RAMPS' director for contracts, proposals and new ventures, told Rigzone there is much for the industry to be excited about in Guyana.
"From my perspective, there hasn't been a deepwater province with this type of success rate," he said. "The Guyana Basin is probably the most attractive offshore area globally right now, both in terms of the volume of oil discovered as well as the favorable economics."
Razack said that such factors will translate into "tons of exploration, appraisal, development activity in the short- to medium-term" followed by decades of production.
"As a logistics company, every single company in that supply chain is a potential customer who needs to move goods or subcontract services," Razack continued. "We therefore see Guyana as having extremely high potential for growth in the logistics field and are positioning RAMPS to capitalize on this. There will be more than enough business for a lot of healthy competition in all areas."
To date, growth in Guyana has enabled RAMPS to add more than 325 Guyanese to its employee ranks, said Razack.
"We are constantly developing entry-level staff to move up through a combination of on-the-job training, outsourced training and training programs done in conjunction with our clients," he said.
An Adjustment for New Entrants
Despite his company's success and his optimism about the country's overall growth potential, Razack acknowledges that businesses wishing to enter Guyana should expect a considerable learning curve. He noted the country's regulatory bodies are struggling to keep up with the rapid pace of change prompted by oil and gas industry activity.
"For example, immigration officers are overwhelmed with the number of applications for work permits for offshore workers," Razack said. "The recently created Department of Energy is just getting up to speed on managing energy contracts and have limited staff and limited resources. Procedures for approvals, permits, etc. are not well defined in many cases and can change randomly. The government costs for these permits and approvals have also been increasing without clear reasoning."
Given the high demand for Guyana's limited infrastructure to support offshore activity, Razack added that prices are "skyrocketing" for industry needs such as shorebases, heavy equipment, warehouses, trucks and so on. Additionally, he said the country's health and safety culture is in its infancy but developing quickly. Moreover, he noted that few laws or policies are in place to guide the local energy sector.
"Local content policy is currently being developed so requirements for foreign companies may change over time, such as whether the company must have a local partner or a minimum percentage of local staff," said Razack. "Simple things like sick and vacation leave for employees are not clearly defined so each employer may have different interpretations, which can lead to issues with employees. Wages can also be a matter of dispute as locals may expect similar salaries to expats with similar positions and much more experience."
Another consideration is managing expectations from the public, added Razack.
"The public is largely unaware of how the sector works so it may expect the operators and their vendors to be able to hire the entire population," he explained. "In reality, oil and gas sectors directly employ a relatively small percentage of any country's working population."
Razack also noted that basic assumptions in Guyana's political scene resemble those of other countries in the region.
"The politics in Guyana, like much of the Caribbean, is highly sensationalized," he said. "Politicians on either side will use developments in the energy sector to criticize each other. Of course, both major parties want to be in control of the oil wealth."
Razack cited the following as ongoing needs in Guyana:
More shorebase facilities equipped with laydown yards, warehousing, fueling, water, power, cranes, forklifts, port labor and adequately sized docks with sufficiently deep draft to accommodate vessels
Personnel logistics such as taxi transport, leased vehicles, meet-and-greet services at the airport, catering and restaurants, hotels, apartments, long-term housing and offices for staff
Better roads and bridges, traffic management and drainage
Improved electrical system reliability given frequent power outages
Faster Internet speeds.
"There is, however, quite a bit of construction either ongoing or planned – new office buildings, plans for new or renovated hotels, the recently opened new terminal at the international airport are some examples," said Razack. "The government has announced possible new roads and bridges as well."
Guyana, with all its growing pains, presents opportunities that RAMPS and other firms find hard to resist. Razack noted his company is exploring multiple growth projects in oil and gas as well as other industries. Moreover, he said he is particularly enthused by the role that firms such as his can play in local content development.
"When you think of labor in oil and gas, logistics companies would not typically go to the top of the list in providing employment or transfer of knowledge and skills," Razack concluded. "Because of our strategy, vision and existing business, we really expect to continue playing a major role in development of locals."
To contact the author, email mveazey@rigzone.com.
Generated by readers, the comments included herein do not reflect the views and opinions of Rigzone. All comments are subject to editorial review. Off-topic, inappropriate or insulting comments will be removed.