GOM Decommissioning Scene is Changing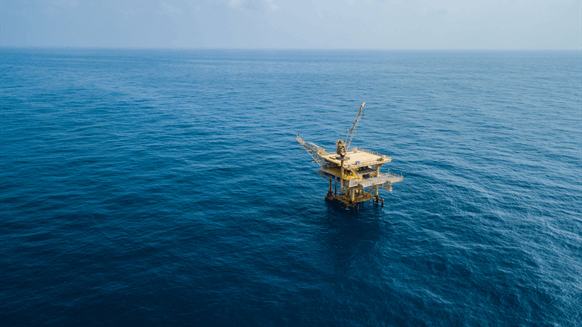 Dismantling an oil and gas platform in the Gulf of Mexico is becoming even more challenging.
Hardly an easy proposition to begin with, dismantling an offshore oil and gas platform in the Gulf of Mexico (GOM) is becoming even more challenging as the complexity of decommissioning and abandonment (D&A) projects intensifies.
"The oil price declines that hit us in 2015-2016 caused many GOM production assets to become uneconomical," Tom McNulty, Houston-based managing director of Great American Group, told Rigzone. "As such, low-hanging fruit – in shallow waters – was the recent focus and that aspect of D&A is less capital-intensive to do."
The D&A scene in GOM is changing, said McNulty. He explained that assets located in deeper water depths are increasingly reaching the end-of-life stage, translating into D&A projects that are much more challenging to complete.
"The farther out you go, and the deeper the water, the more difficult the work," said McNulty. "We are seeing that oftentimes the very same companies that built and installed GOM assets years ago are the very same companies that are hired to decommission them."
Citing government and market sources, McNulty highlighted the growing magnitude of D&A operations. Key data points include:
Global D&A spending should reach $13 billion per year by 2040
Worldwide, D&A expenditures will increase by 540 percent through 2040
From 2021 to 2040, there will be an estimated 2,000 offshore D&A projects
In just the GOM, decommissioning liabilities amount to roughly $40 billion.
Besides the logistical challenges associated with decommissioning remote offshore structures, the profit potential associated with the time-consuming process is minimal to nonexistent for the operator. As a project manager with Worley's INTECSEA consultancy told Rigzone in 2018, an operator's ultimate goal in the approximately five- to six-year D&A process is "to reduce overhead."
"The environmental and regulatory issues are multifold, particularly in this post-Macondo era," said McNulty, adding that weather-related impacts, the need for specialized heavy equipment and cyclical shortages of skilled personnel represent other D&A challenges. "Litigation risk is massive, so a great deal of planning goes into each D&A project."
To be sure, firms with D&A expertise that win such projects reap the rewards of executing such complex operations.
"One company's expense is another's revenue," said McNulty. "What is often lost in this discussion is the spend for D&A across the GOM is real revenue and cash flow that is there to be captured by the firms that can do this work, do it well and do it efficiently."
McNulty added that he envisions opportunities for GOM facility owners to at least lessen their exposure to D&A risks by adding partners.
"For example, mid-sized independent, rather than integrated, upstream companies can be brought in to extend the life of some plays so that D&A is further deferred," explained McNulty. "Then, when the time comes, the liabilities and risks can be shared."
Moreover, McNulty pointed out that repackaging the offshore asset for investors may be an option.
"I also see this as an opportunity for securitization, if the right investment bank can come up with an interesting structure," he said. "The hurdle is finding the correct way to cross-collateralize the security with other assets, if in fact the oil and gas field under the offshore structure is truly depleted."
Salvaging any viable scrap metal from the offshore structure represents another potential D&A revenue stream for the operator, added McNulty.
"That might be useful to offsetting some of the liabilities," he concluded.
Generated by readers, the comments included herein do not reflect the views and opinions of Rigzone. All comments are subject to editorial review. Off-topic, inappropriate or insulting comments will be removed.