Georgia LNG Terminal Adds Export Capability
|
Friday, October 04, 2019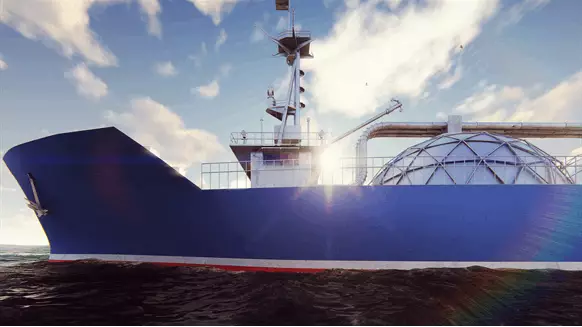 The first unit of the Elba Liquefaction Project near Savannah, Ga., has reached the commercial in service stage.
The first unit of the approximately $2 billion Elba Liquefaction Project near Savannah, Ga., has reached the commercial in service stage, Kinder Morgan, Inc. (KMI) reported Friday.
With a liquefaction unit now in service, the Elba Island liquefied natural gas (LNG) import terminal can now product LNG for export as well, KMI noted in a written statement. KMI and EIG Global Energy Partners are collaborating in the Elba Liquefaction Co., L.L.C. joint venture (ELC), which is adding a total of 10 liquefaction units at Elba Island.
"This is a great milestone that was achieved with an exemplary safety record," commented Norman Holmes, president of KMI's Natural Gas South Region. "It is also an important step for the United States as the country becomes a key energy exporter."
With the first unit online, ELC is now earning approximately 70 percent of the expected total daily revenue of the Elba Island liquefaction units, KMI stated. In addition, the firm issued the following updates on the remaining nine units:
Startup is underway for units two and three.
Commissioning is ongoing for units four, five and six.
Construction is largely complete for units seven through 10.
KMI noted the Elba Island Liquefaction facility should ultimately be capable of producing approximately 2.5 million tons per year of LNG for export, equating to roughly 350,000 million cubic feet per day of natural gas.
Shell has subscribed to 100 percent of the liquefaction capacity under a 20-year contract.
To contact the author, email mveazey@rigzone.com.
Generated by readers, the comments included herein do not reflect the views and opinions of Rigzone. All comments are subject to editorial review. Off-topic, inappropriate or insulting comments will be removed.