Frequent Skill Assessments A Must for Oil, Gas
by Valerie Jones
|
Rigzone Staff
|
Thursday, April 25, 2019
Oil and gas companies looking to strengthen their workforce need to assess current skill levels and plan for the future in order to drive newer technologies forward.
As the oil and gas industry continues its technological evolution – or revolution, depending on how you look at it – companies are making efforts to ensure they have the right workforce to drive that technology forward.
"In modern times, with the emphasis being on safety in industry and trying to reduce personnel exposure offshore, obviously technology has gone through the roof," Darren Walley, global competence manager for Fugro told Rigzone on the sidelines of the WorkforceNEXT Energy Summit April 18. "Go back 20 years when offshore was 'belts, braces, oil and grease' … now we're having to change those skillsets because workers need to have fundamental understanding of technology."
This requires a bit of change management for oil and gas companies.
Kahuna Workforce Solutions helps companies to alleviate workforce challenges through its competency assurance and competency development solutions.
"Kahuna actually shows us where the skills gaps are and where the training needs are," said Walley. "As long as we make sure the data we feed it is correct and up-to-date, we'll start getting pretty much day-to-day indications of what's going wrong and where we need to focus our training requirements."
"Technology is making the operating environment a more challenging workplace, so meeting that challenge with greater technical skills is certainly been a focus across our customer base," said Jai Shah, cofounder and CEO of Kahuna Workforce Solutions. "I think what we're also seeing now is – after people spend a few years really worrying about that technical skillset – they're coming back and saying, 'wait a second. We can't forget about leadership. We can't forget about the next generation of leaders.'"
There's been a demographic divide in the workforce.
"We're seeing not just the technical development, but also a renewed focus on knowledge transfer of senior folks who are leaving the organization and making sure that's all passed down – both from a technical and managerial perspective," Shah said. "Companies are trying to fill that void of the next generation of leadership."
Shelby Bybee, manager of competency development for Pacific Drilling, said companies must first identify what the desired skills are.
"If you can do a proper assessment of what the new skills are that your workforce requires in the current state and/or the future state – essentially, where do you want to be as an organization 3, 5 years down the road – and start to build those skillsets progressively, that's the best thing that an organization can do," she said. "But we can't understand where the gaps are and what skills we don't have until we determine what we're missing in our pool of talent, then focus on and provide targeted training to help develop those skills."
And those assessments can't happen just once a year.
"We think of the workforce in a more agile way today than we ever have before," said Shah. "The idea is continuous evolution of that workforce and to do that, we need to be collecting data on a more frequent basis. You can't say this is an annual cycle. Because in a year, with that rate of change and introduction of new technology, we might have already missed two or three iterations of what needed to occur."
Shah said the biggest challenge specific to learning and development and competency assessment is resistance to collecting that data.
"People are inherently afraid of what the organization is going to do with that data, and if you're an experienced worker, you are resentful that your experience is not taken into account and you're being asked to assess on things that may seem very basic to you," said Shah. "To address that, we work with our customers on messaging the change management and selling the value to the employee. We also help them better leverage technology to take some of the weight out of the assessment process by giving credit for job experience, for example. That way, workers at least feel like the profile they're walking in the door with counts for something. Additionally, we can unlock some hidden skills the organization isn't aware of. It doesn't necessarily assure them to be competent, but it gives them a head start and keeps them from starting from scratch."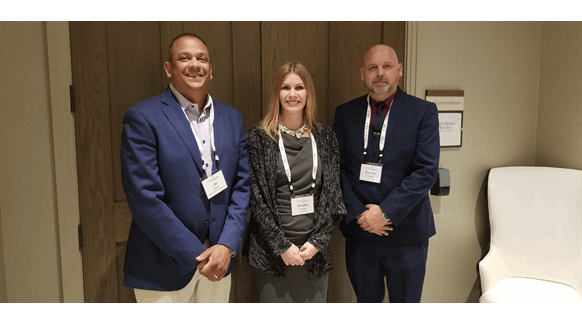 Pictured (l-r) are Jai Shah, Shelby Bybee and Darren Walley
Generated by readers, the comments included herein do not reflect the views and opinions of Rigzone. All comments are subject to editorial review. Off-topic, inappropriate or insulting comments will be removed.