Frac Sand Market Faces Supply Chain Disruption
|
Tuesday, September 25, 2018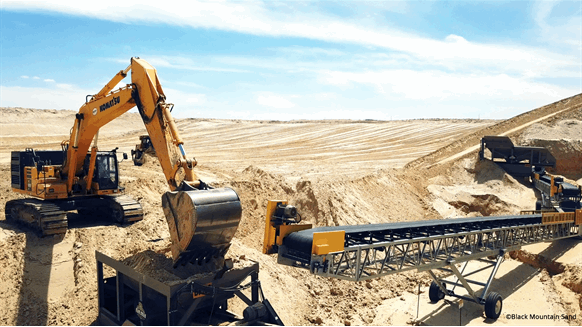 The US frac sand market could approach $6 billion by 2023. SOURCE: Black Mountain Sand
A key ingredient for drilling and completion operations in shale formations, proppant – often frac sand – aids in extracting hydrocarbons from source rocks. According to a recent IHS Markit report, the U.S. frac sand market has more than tripled – from $1.3 billion in 2016 to more than $4 billion today – and should approach $6 billion by 2023.
One company riding the wave of this market growth is Texas-based Black Mountain Sand, which last month unveiled plans to expand into the Mid-Continent by developing its sixth frac sand mine. The 1,290-acre Blaine County, Okla., mine, which will produce 3 million tons of frac sand annually, is slated to begin operations in January 2019.
The new mine will enable Black Mountain, already an in-basin frac sand provider in the Permian and Eagle Ford, to operate within its third basin: the Anadarko. Rhett Bennett, founder and CEO of Black Mountain, noted that exploration and production companies are increasingly sourcing frac sand in-basin to simplify their supply chains. Eliminating the need to import frac sand from another basin via rail can cut the total cost of a well by up to 10 percent, Black Mountain estimates.
"The frac sand industry is going through a tremendous period of disruption," Bennett told Rigzone. "The supply chain is being reconstituted – it now starts in-basin, and last-mile logistics evolutions continue to drive down all-in delivered sand costs. This sweeping change is occurring at a great time for domestic U.S. E&P producers – making well economics that much more competitive in a global market."
Bennett recently outlined for Rigzone what it takes to set up a frac sand mine, changes he is seeing in his industry and more. Read on for his insights.
Rigzone: For those unfamiliar with the topic, how does an E&P companies determine what frac sand is "right" for a particular well?
Rhett Bennett: It is typically a complex process that takes into many considerations such as overall completion design and reservoir characteristics. The main factors that most E&P companies are looking at are mesh size and crush resistance. As Black Mountain Sand evaluates in-basin deposits, we work closely with our customers to understand their specifications to ensure we are delivering the right product.
Rigzone: What are the major steps that go into developing a frac sand mine?
Bennett: The most important step is evaluating the project in conjunction with the targeted customer base. By understanding our customers' needs, Black Mountain Sand can carefully plot our course. Because we are sensitive to the timing of delivering for our customers, we are extremely diligent in the planning phases including site selection, equipment design, permitting, and construction.
Rigzone: What are some of key trends and challenges you're seeing in Texas and the Mid-Continent?
Bennett: Our customers are eager to get access to the products, both in Texas and Oklahoma. Black Mountain Sand's ability to execute on our promises of timelines and quality has resonated with our customers. In West Texas, there have been several companies experiencing construction delays as well as prolonged startup issues that have allowed a select few suppliers to grow market share. For Black Mountain Sand, this has manifested itself in our Sealy Smith mine and expansion projects at our existing mines. In Oklahoma, we have diligently worked through the permitting process which has presented issues for others as it is a different process than Texas. Black Mountain Sand continues to be early movers to drive the in-basin transformation that is occurring in the market.
Rigzone: What are some of the complexities that can creep into the frac sand supply chain, and what are some effects of these issues?
Bennett: Historically, the sand supply chain is extremely complex and vulnerable to issues that can lead to delays and cost increases. Some of the variables include railroad power supply constraints, weather issues, timing of rail switches, railcar derailments and transload congestion. Aside from the reduction of the logistics costs, in-basin sand creates a streamlined and simplified supply chain that eliminates the lengthy delivery process. By eliminating the bottlenecks of the railroad and transloads, the mine to wellhead model represents the most efficient value chain.
Generated by readers, the comments included herein do not reflect the views and opinions of Rigzone. All comments are subject to editorial review. Off-topic, inappropriate or insulting comments will be removed.