Fmr Exxon CEO Tillerson Reflects on White House
|
Wednesday, June 05, 2019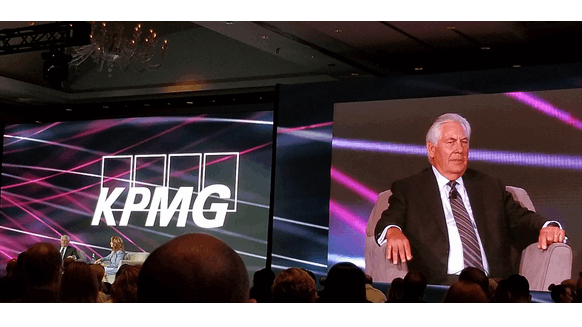 Former U.S. Secretary of State and ExxonMobil Corp. CEO Rex Tillerson shares everything from his thoughts on the Trump administration's handling of the U.S.-China trade war to Trump's possible reelection.
While former ExxonMobil Corp. CEO and U.S. Secretary of State Rex Tillerson supports the trade objectives of President Donald Trump's administration, he doesn't support its tactics.
Tillerson spoke of the ongoing U.S.-China trade war at the KPMG Global Energy Conference in Houston on Wednesday.
"I think it's important as Americans to remember that our greatest strength and the most important element to our national security has been that we are a nation that has many allies and friends," said Tillerson. "Our adversaries – Russia, China, North Korea, Iran – have no allies or friends. We'll be celebrating the 75th anniversary of D-Day tomorrow. Hopefully that serves as a reminder of how bad things can get in the world. And you want your friends standing with you."
Tillerson doesn't believe bilateral trade talks are the answer and shared that his biggest concern would be that the Chinese decide they can't make a deal with the current administration and instead, decide to wait on the next one.
It's been quite public that Tillerson, who served as ExxonMobil's CEO from 2006-2017 before leaving the oil giant to serve 14 months as the nation's Secretary of State, clashed with Trump several times during his time in the White House.
Tillerson learned of his firing via social media platform Twitter.
"I never had a social media account. When I got fired, my chief of staff gave me a call to tell me because I don't have a Twitter account," Tillerson joked to the crowd.
In describing the differences he experienced between running Exxon and running a state department, Tillerson said, "nothing was similar and everything was different."
"It's almost an unfair comparison when you spend 41 1/2 years in the same outlet where you know everybody in the organization, who you can count on and you think the same way…I had a team of people who helped me manage the pressure," he said. "When I got to the state department, it was almost completely void of any management, structure or process. It was very difficult to identify who had authority to make decisions, who to hold accountable … there were no processes on how to do things."
However, when asked about Trump's possible reelection in 2020, Tillerson said it depends on the kind of campaign the president decides to run.
"If the president focuses on the economy and the way the economy has performed and all the steps around deregulation put into place and tax reform, then he could deliver a very positive message," he said. "I don't know if that what he plans to do."
Despite their sometimes contentious relationship, Tillerson said if he could do it over again, he would still accept the role as Secretary of State.
"I made it clear to the president when I accepted the job, I told him 'I will probably be your most difficult confirmation' … and when I got confirmed, I told the president, 'I'll never quit. When you're done with me, you'll just need to let me know,'" Tillerson said. "I would've kept going. I was very proud of the work we were doing and I still am. I have no regrets. And it was the highest honor of my life to serve this country."
Generated by readers, the comments included herein do not reflect the views and opinions of Rigzone. All comments are subject to editorial review. Off-topic, inappropriate or insulting comments will be removed.