Florida LNG Project Clears Hurdle
by Matthew V. Veazey
|
Rigzone Staff
|
Wednesday, November 21, 2018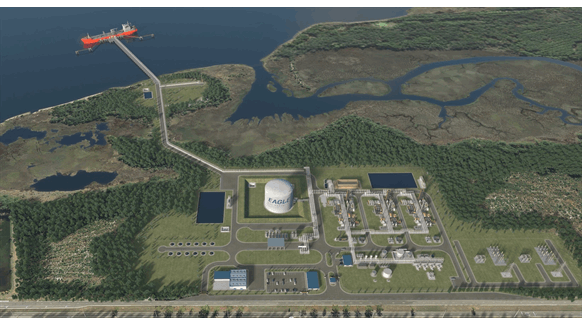 An aerial rendering of the Jacksonville Export Project. SOURCE: Business Wire
The U.S. Federal Energy Regulatory Commission (FERC) has granted Eagle LNG Partners a draft environmental impact statement (DEIS) for their Jacksonville Export Project, Eagle LNG reported Tuesday.
"Our customers, and potential clients, join us in being encouraged that FERC has released the DEIS ahead of schedule," Sean Lalani, Eagle LNG's president, said in a written statement. "It moves us considerably closer to meeting our goal of expanding clean-burning, domestic and affordable LNG supply for marine bunkering and for small-scale LNG projects in the Caribbean."
According to Eagle LNG, achieving the milestone puts the company on "a clear path" to making a final investment decision (FID) on the small-scale export project. The Eagle LNG website notes that the proposed facility, which would occupy a 194-acre parcel along the St. Johns River in Jacksonville near existing bulk fuel terminals, would be capable of processing 1.5 million gallons of LNG per day and storing 12 million gallons of LNG on-site.
"Once completed, the Jacksonville Export Facility will be the lowest cost source of small-scale LNG available for our marine bunkering and power generation clients," continued Lalani. "This project will inject approximately $500 million of infrastructure investment plus provide numerous well-paying direct and indirect jobs in Florida."
Eagle LNG, a wholly owned unit of Ferus Natural Gas Fuels LP and a portfolio company of The Energy & Minerals Group, stated that it anticipates the final environmental impact statement in April 2019. In addition, it expects the FID during the second half of next year and a 2021 in-service date for the facility.
The DEIS, which FERC issued on Nov. 16, is available on the commission's website.
Generated by readers, the comments included herein do not reflect the views and opinions of Rigzone. All comments are subject to editorial review. Off-topic, inappropriate or insulting comments will be removed.