Florida LNG Developer Awards Turnkey Contract
|
Monday, January 13, 2020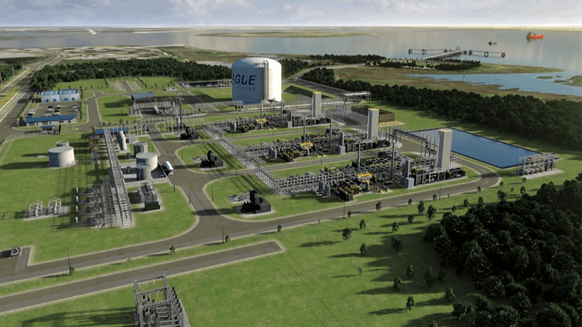 Here is a rendering of the Jacksonville LNG Export Facility. IMAGE SOURCE: Business Wire
Matrix Service Inc. has won the engineering, procurement, fabrication and construction contract for Eagle LNG Partners LLC's Jacksonville LNG Export Facility in Northeast Florida, Eagle LNG reported Monday.
According to Eagle LNG, the approximately $500 million facility will be capable of producing roughly 1.65 million LNG-gallons per day and storing 12 million LNG-gallons. The firm added that the small-scale complex will offer a marine terminal and truck-loading capabilities. It noted the facility will use Chart Industries' "IPSMR" and liquefaction equipment technology.
"Eagle LNG is experiencing growing demand for LNG to serve small-scale export markets, while domestic demand for fuel-grade LNG continues to increase," Eagle LNG CEO Dick Brown said in a written statement. "We continue to build out LNG infrastructure across the country to meet these needs. Partnering with Matrix Service and Chart Industries provides service from concept through completion."
Upon receiving a critical authorization last September from the Federal Energy Regulatory Commission (FERC), Eagle LNG reported that LNG from the facility will help to lower power generation costs and reduce carbon dioxide emissions throughout the Caribbean basin. Besides receiving the FERC authorization, the Jacksonville project has also won LNG export approvals from the U.S. Department of Energy.
"We are extremely proud to have been selected by Eagle LNG to provide turnkey solutions for this project, which will expand their ability to provide clean, low-cost, domestically produced natural gas to both domestic and global markets," commented John R. Hewitt, Matrix Service Co.'s CEO. "(W)e look forward to helping Eagle LNG achieve its objectives by providing our expertise in cryogenic storage and complete balance of plant, including marine structures, to deliver this next project safely, with the highest quality, on time and on budget."
Matrix also worked on Eagle LNG's recently completed Maxville LNG facility in Jacksonville.
"We are pleased to partner with Matrix Service on this important project for Eagle LNG, bringing our global experience in the design and manufacture of highly engineered cryogenic equipment as well as our patented IPSMR process technology," said Jill Evanko, CEO of Chart Industries.
A company spokesperson told Rigzone that Jacksonville LNG construction will begin upon final investment decision. The project website states that start-up and commissioning could occur in 2022.
To contact the author, email mveazey@rigzone.com.
Generated by readers, the comments included herein do not reflect the views and opinions of Rigzone. All comments are subject to editorial review. Off-topic, inappropriate or insulting comments will be removed.