Five LNG Trends to Watch in 2019
|
Thursday, January 10, 2019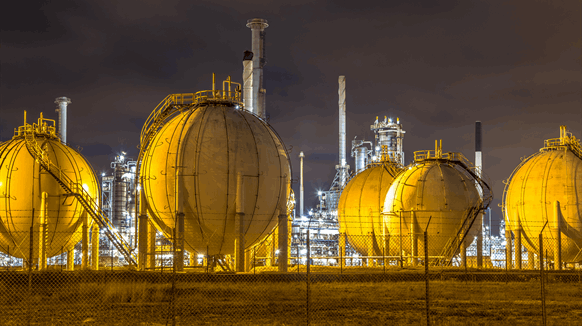 Wood Mackenzie predicts a mixed mood for the LNG market.
Looking ahead to the next 12 months, Wood Mackenzie foresees a mixed mood in the global liquefied natural gas (LNG) market. In an emailed statement to Rigzone, the consultancy observed that the LNG market in 2019 will feature a return of "big LNG buyers" and "a record year for supply" based on growth in production and capital spending decisions for new projects.
Amid such a backdrop, Wood Mackenzie Research Director Giles Farrer offered a glimpse of major LNG market drivers for 2019. Below are five trends to watch.
Falling Prices
"Asian LNG demand growth will not keep pace with LNG supply and Europe, northwest Europe in particular, will have to absorb the surplus, especially during the summer," stated Farrer.
Farrer added, however, that Europe's increased dependence on "maxed-out Russian and Norwegian imports" mean that the region needs additional imports and flexibility. Also, he contends that an expected LNG oversupply situation may be less ominous than some expect.
"While there will be more LNG imports than required, providing competition to pipe imports and putting pressure on prices, we think this will unlikely bring the level of oversupply that some fear," said Farrer.
Still, assuming normal weather patterns, Wood Mackenzie anticipates that LNG prices will be down for 2019 compared to the previous year. On a title transfer facility (TTF) basis, the consultancy forecasts an average price of US$6.90 per million British thermal units (MMBtu) for 2019 compared to US$8 per MMBtu in 2018. In addition, it projects an average Asian spot price of US$8.50 per MMBtu (versus US$10.30 per MMBtu).
"But weather is something we will watch closely in Q1 2019," cautioned Farrer. "(A) mild end to winter could send more LNG into Europe and drive prices down further."
More Project Approvals
The global LNG market is rebalancing, but 2019 will be "a record year" in terms of LNG project sanctions, said Farrer. He noted that more than 60 million metric tonnes per annum (mmtpa) of new capacity will likely hit the final investment decision (FID) stage. That FID figure is "well above the previous 45 mmtpa sanctioned in 2005 and a tripling of the 21 mmtpa sanctioned in 2018," he added.
"Frontrunners in the race to hit FID include the US$27 billion Arctic LNG-2 in Russia, at least one project in Mozambique and three in the U.S.," said Farrer. "Our picks in the U.S. are Golden Pass, Calcasieu Pass and Sabine Pass Train 6."
Farrer noted that the small Woodfibre project in the Canadian province of British Columbia may be sanctioned this year as well.
"Other projects in the U.S., Qatar, Papua New Guinea, Australia and Nigeria are targeting FID in 2019, too, providing upside to our already bullish view," Farrer added.
Economic Slowdown
The global economy has been growing for the past eight years, but economic prognosticators anticipate a downturn, noted Farrer. It "is simply a matter of when and how deep," he said.
Farrer pointed out that a recession would curb demand for gas and LNG, lower oil prices, delay FIDs and "push the global LNG market back a few years." However, he cautioned that an even less desirable scenario could materialize for the gas market: a "major economic downturn" in 2020 or 2021, right after anywhere from 60 to 100 mmtpa of LNG capacity has taken FID.
"That would wipe out our forecast price recovery post-2020 and make our forecast that prices soften a little around 2025 look a lot worse," said Farrer.
1
2
View Full Article
Generated by readers, the comments included herein do not reflect the views and opinions of Rigzone. All comments are subject to editorial review. Off-topic, inappropriate or insulting comments will be removed.