FAMILY AFFAIR: Father, Son Set on Growth for Offshore Contract Drilling Co.
by Valerie Jones
|
Rigzone Staff
|
Thursday, June 28, 2018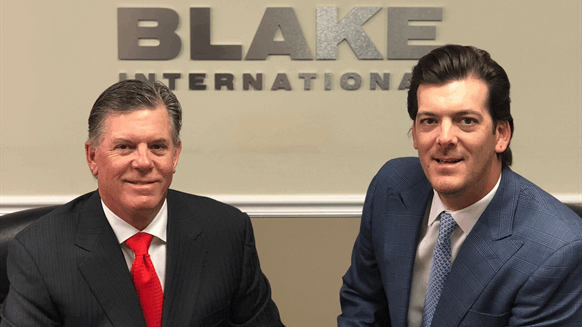 Having survived the toughest industry downturn in recent history, father and son Mike and Beau Blake are focused on growing Blake International Rigs.
Michael (Mike) Blake, Sr. began his career in oil and gas working his way through college by roughnecking on drilling rigs in South Louisiana before he graduated in 1982, when the oil market was at rock bottom.
After working in the office of a drilling company for a few years, Mike was able to venture out on his own in 1985. The next 25 years, as Mike recalls, is a storied timeline.
1985: Joined Blake Drilling and Workover and bought my first rig for $19,000 at an auction
1989: Sold the business and stayed on as president
1991: Started my own business and assembled a fleet of barge rigs
1993: Merged my company with Falcon Drilling
1994: Company went public on NYSE; I remained as president of the workover division until 2000
2001: Left that company to form Blake Offshore and bought a fleet of mobile offshore production units
2008: Purchased what is now called Blake International Rigs and sold my interest in Blake Offshore
2009: Completely exited Blake Offshore and concentrated all my efforts on Blake International Rigs
Mike brought on his son Michael Blake, Jr. (Beau) to work at Blake Offshore in the early 2000s where he gained experience in all aspects of the business. Beau helped with the acquisition in 2008 and steadily worked his way up with his father's lead. In 2012, Beau took the role of president and CEO of Blake International Rigs. Mike serves as chairman of the board.
As an offshore drilling contractor company, Blake International, which has its home office in Houma, Louisiana, was hit hard during the industry downturn a few years ago.
"This was the worst in history," said Mike, adding that a drilling contractor "would literally fade away" if it didn't have a plan in place.
"We saw the writing on the wall when the oil price started to collapse," said Beau, who credits his father for helping him handle the downturn. "I was able to learn [from him] what to do and what not to do … he's been through a few of these, so being able to lean on that knowledge was crucial," Beau said.
"When the downturn hit, we were fortunate enough to still have rigs under contract in Mexico through 2015, so were hit about a year later than everybody else," Mike added.
What came next for the father and son team were quick decisions and a streamlining of the company, which included layoffs.
"The company went from 450 employees to 100 in what seemed like overnight," Beau said.
"It's a hard thing to lay off employees that have been there for a while, but in order to survive, you have to do it," Mike added.
Mirroring the industry as a whole, Blake International is now recovering from the prolonged dip in oil prices.
Today, Blake International has 10 rigs in its fleet, is putting more rigs to work and has almost 150 employees with plans to hire another 100 by the end of the year.
The company was also able to do something really nice for its employees.
1
2
View Full Article
Generated by readers, the comments included herein do not reflect the views and opinions of Rigzone. All comments are subject to editorial review. Off-topic, inappropriate or insulting comments will be removed.
MORE FROM THIS AUTHOR
Valerie Jones
Senior Editor | Rigzone