FAMILY AFFAIR: Cousins Continue Grandfather's Legacy in Oil Business
by Valerie Jones
|
Rigzone Staff
|
Friday, May 25, 2018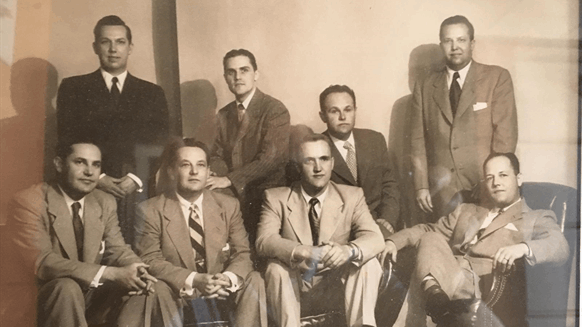 Third-generation oilfield workers share their family history in the business.
Thomas (Tom) Stewart and Robert Stewart both entered in the oil business immediately after college: Tom went to work for his father well tending in 1974 and Robert joined his father as a petroleum engineer in 1984 after a few years working for ExxonMobil in Ventura, California.
The pair's venture into the oilfield was less about circumstance and more about tradition. Tom and Robert are cousins; their fathers both worked in the oilfield and followed in the footsteps of their father, Ed Stewart.
The family legacy began with Ed, who served as president of Stewart Oil Company in the early 1900s, which was devoted to drilling and contracting.
Stewart Oil Company drilled and produced in Michigan, then started drilling in Illinois in the late 1940s, Ohio shortly thereafter and Kansas in the 1950s, Robert explained. It dissolved in 1968.
Ed had eight sons and of the eight, six went on to be in the oil business.
Three of the brothers bought all the siblings' oil interests and formed Stewart Brothers Inc., the successor to Stewart Oil Company.
"Stewart Producers was created in 1951 primarily as an operating company and run by my father," said Robert. "It's the active company that drills, produces and operates oil wells. Stewart Brothers invests in everything that Stewart Producers does."
Robert said his father attributed the family's success to great cooperation between the brothers.
"They all got along well – no sibling rivalries or individual agendas," he said. "Stewart Brothers continues on in the same fashion today, though now it's 'Stewart cousins.'"
Robert's career with Stewart Producers began with him serving as a petroleum engineer searching for reserves to drill or purchase. He assumed the role as president in 1990, a position he still holds today.
Robert began his career working with his father at Stewart Producers as a petroleum engineer.
"When the price of oil started moving upward a bit in 2004 and 2005, we started getting a little more aggressive. In the last 10 or 12 years, we've done much more active drilling for oil," Robert said.
As for Tom, he describes himself as a "fracking baby" because his father moved back to his home state of Ohio during the time when the process of hydraulic fracturing was revolutionary.
"The only reason we moved when I was a toddler was because of hydraulic fracturing," he said. "Some people told me he may have been one of the first in the state of Ohio to actually use water instead of gelled crude oil to fracture the well."
1
2
3
View Full Article
Generated by readers, the comments included herein do not reflect the views and opinions of Rigzone. All comments are subject to editorial review. Off-topic, inappropriate or insulting comments will be removed.