ExxonMobil to Expand UK Refinery
|
Wednesday, April 24, 2019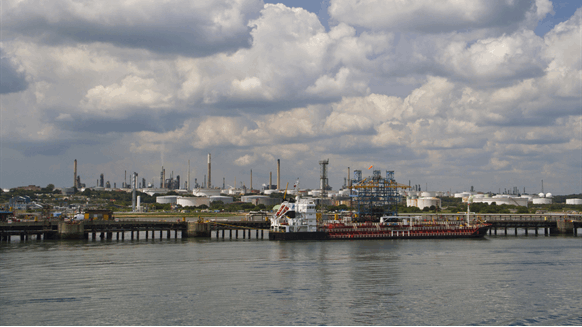 The project will boost Fawley's ULSD capacity.
Exxon Mobil Corp. has made a final investment decision to expand its Fawley refinery near Southampton, U.K., the company reported Wednesday.
According to a written statement emailed to Rigzone, ExxonMobil stated that it plans to increase ultra-low sulfur diesel (ULSD) production at Fawley by nearly 45 percent – or 38,000 barrels per day (bpd) – and make logistics improvements. The company noted that the $1 billion-plus project calls for a hydrotreater unit to remove sulfur from fuel and a hydrogen plant to help improve the refinery's energy efficiency.
"ExxonMobil continues to invest in the Fawley refinery and chemical plant, Britain's largest integrated facility," stated Bryan Milton, president of ExxonMobil Fuels and Lubricants Co. "This investment will make Fawley refinery the most efficient in the United Kingdom, supporting Esso's industry-leading logistics and fuel marketing operations."
The Fawley project should reduce the need to import diesel into the U.K., which imported approximately one-half of its diesel supply in 2017, ExxonMobil stated.
ExxonMobil noted that it has already begun detailed engineering and design for the project. The company expects construction to start toward the end of this year, subject to regulatory approval. It added that the project should create up to 1,000 construction jobs, and it anticipates a 2021 startup.
Generated by readers, the comments included herein do not reflect the views and opinions of Rigzone. All comments are subject to editorial review. Off-topic, inappropriate or insulting comments will be removed.