ExxonMobil: Permian Growth Benefits to Reach Baton Rouge
by Rigzone Staff
|
Tuesday, January 30, 2018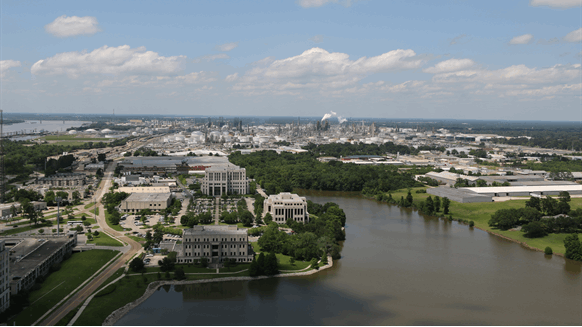 Southeast Louisiana refinery to feel impact of West Texas production hike, says super-major.
Exxon Mobil Corp. on Tuesday unveiled plans to triple its total daily Permian Basin production by 2025 and raise its tight oil production five-fold from the Delaware and Midland basins during the same period. The super-major maintains the benefits will extend well beyond West Texas.
"With this production growth, we are well positioned to maximize value as increased supply moves from the Permian to our Gulf Coast refineries and chemical facilities where higher-demand, higher-value products will be manufactured," Sara Ortwein, president of ExxonMobil's XTO Energy unit, said in a written statement.
According to ExxonMobil, the increased Permian production will provide low-cost supply and feedstocks to the company's refineries and petrochemical plants in Beaumont, Baytown and Mont Belvieu, Texas, as well as Baton Rouge, La. The region's manufacturing facilities are expanding as well via ExxonMobil's separate $20 billion "Growing the Gulf" initiative. A partial list of the 11 Growing the Gulf projects, which ExxonMobil states begin in 2013 and should run through at least 2022, includes:
A new ethane steam cracker at Baytown to provide ethylene feedstock for two new high-performance polyethylene (PE) units at Mont Belvieu
A new production unit at the Beaumont PE plant
More than 300,000 barrels per day of light crude processing capacity at the Baytown and Beaumont refineries
In its announcement Tuesday, ExxonMobil also stated that it plans to expand its recently acquired crude oil terminal in Wink, Texas. The $2 billion-plus infrastructure upgrades at Wink will help to move ExxonMobil and third-party production from the Delaware, Central and Midland basins in the Permian to various Gulf Coast market destinations, the company noted.
ExxonMobil cited recent changes in the U.S. corporate tax rate as an incentive to increase its future capital investments. According to a recent analysis by Wood Mackenzie, some possible oil and gas industry impacts from the recently enacted tax law that cuts the corporate rate from 35 percent to 21 percent include:
Exploration and production companies could see a 19-percent increase in the post-tax value of their profitable assets
Improvements to the terms of the pass-through tax rate will help midstream companies.
Accelerated expensing of capital costs and changing from a worldwide to a territorial tax system will likely drive more international capital to onshore and deepwater plays.
The increased attractiveness of U.S. investment may spur other countries to decrease their own tax rates as well.
Companies will have fewer tax deductions available to them, including less flexibility in applying operating losses in down markets against gains made in subsequent years.
Companies can no longer deduct 35 percent from the cost of debt financing; it goes down to 21 percent and possibly lower. Debt financing becomes more expensive, leading to a capital shift from debt and toward equity.
Generated by readers, the comments included herein do not reflect the views and opinions of Rigzone. All comments are subject to editorial review. Off-topic, inappropriate or insulting comments will be removed.
RELATED COMPANIES