Exxon, Others to Launch Virtual LNG Pipelines in India
|
Tuesday, February 25, 2020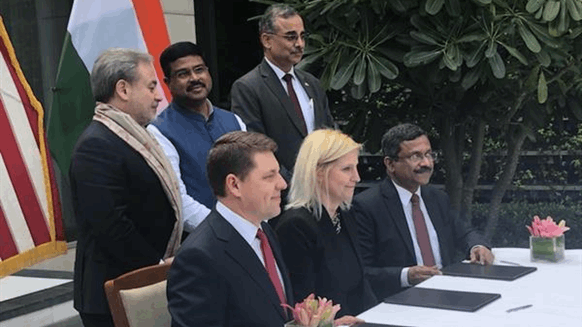 Chart Industries President and CEO Jill Evanko, center, at Monday's LNG virtual pipeline signing ceremony in India seated with ExxonMobil and IOCL officials. US and Indian dignitaries, standing, look on. PHOTO SOURCE: Chart Industries, Inc.
Chart Industries, Inc. reported Monday that it has signed a letter of cooperation with ExxonMobil India LNG Limited and Indian Oil Corp. (IOCL) to pioneer virtual gas pipelines in India.
A virtual pipeline delivers liquefied natural gas (LNG) by road, rails and waterways not linked by physical pipelines, Chart noted in a written statement. Chart, which designs and manufactures cryogenic equipment, signed the agreement with ExxonMobil and IOCL in the presence of U.S. and Indian dignitaries during President Trump's state visit to India.
"We believe this collaboration with ExxonMobil, a major LNG supplier with a local presence in India, coupled with our ongoing work with IOCL will accelerate India's ability to offer a cleaner energy solution within the growing cities and networks," Chart President and CEO Jill Evanko commented in a written statement.
Monday's three-way letter of agreement follows an early 2019 memorandum of understanding (MOU) that Chart signed with IOCL. Under the MOU, Chart and IOCL agreed to promote the development of India's LNG market by focusing on:
Modular liquefaction
Regasification applications
LNG bunkering
Fueling stations
Alternative LNG mobile transportation including ISO containers.
Chart pointed out Monday that the newly signed letter of cooperation expands the reach and potential scale of the earlier deal.
"We are excited to offer our cryogenic equipment to support what each party in this collaboration believes will accelerate clean energy progress while doing so with localized equipment manufacturing in India," concluded Evanko.
The LNG virtual pipeline concept is gaining traction beyond India. In fact, as a recent Rigzone article noted, it is becoming an increasingly attractive option in North America. Edge Gathering Virtual Pipelines 2 LLC is spearheading one such project that will source LNG from stranded gas wells in Tioga County, Pa.
To contact the author, email mveazey@rigzone.com.
Generated by readers, the comments included herein do not reflect the views and opinions of Rigzone. All comments are subject to editorial review. Off-topic, inappropriate or insulting comments will be removed.