Equinor Works to Clean Up Oil Spill at Bahamas Terminal
|
Tuesday, September 10, 2019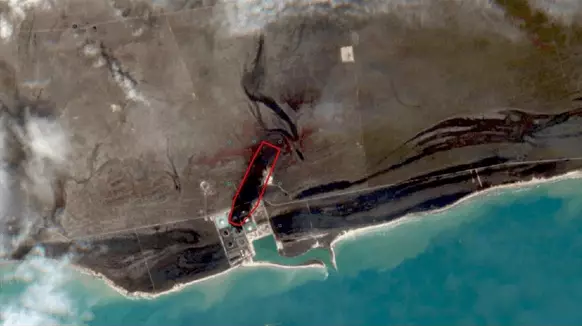 This satellite image from Equinor's website shows the impact of Hurricane Dorian on the South Riding Point oil terminal at Grand Bahama Island. The red outline indicates the plume area of the oil spill. (Pleiades CNES, Distribution Airbus DS)
Equinor ASA is continuing to respond to damage done to its Bahamas South Riding Point oil storage terminal as well as nearby oil spills due to Hurricane Dorian.
On Monday, the company released a statement saying two vessels were on the way from Louisiana with 43 oil spill response personnel and clean-up equipment.
"Additional oil spill personnel and equipment is being mobilized in Florida and could arrive within two days, and efforts are being made to secure equipment available in the Bahamas," Equinor said.
Equipment for use both onshore and offshore has been mobilized.
Resources in the Bahamas, the U.S. and Norway are coordinating the response to the spill and mitigation of damage to the terminal, said Equinor. About 225 Equinor employees are involved in the response, in addition to external personnel and resources.
Equinor said there's nothing indicating ongoing leaks from the tanks or oil stemming from the terminal on nearby beaches or the ocean.
Hurricane Dorian first made landfall Sept. 1 in the Bahamas as a Category 5 storm.
To contact the author, email Valerie.Jones@Rigzone.com
Generated by readers, the comments included herein do not reflect the views and opinions of Rigzone. All comments are subject to editorial review. Off-topic, inappropriate or insulting comments will be removed.