Equinor Extends North Sea Statfjord Ops
|
Friday, January 10, 2020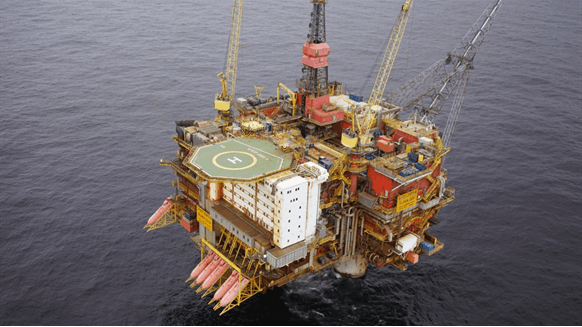 The decommissioning of the Statfjord A platform in the North Sea, shown above, has been postponed. PHOTO SOURCE: Equinor
With a production history spanning four decades, the Equinor-operated Statfjord field on the Norwegian Continental Shelf (NCS) relies on three platforms – Statfjord A, B and C – to extract the main field and satellite fields' bounty. Statfjord A had been slated for decommissioning in 2022.
Equinor reported Thursday that Statfjord A decommissioning will be deferred to 2027. Moreover, the company stated that the lives of Statfjord B and C will extend beyond 2035.
The extensions stem from a newly approved business plan by Equinor and Statfjord partners Var Energi, Spirit Energy Norway, Petoro, Idemitsu Petroleum Norway and Wintershall Dea Norge that calls for drilling approximately 100 new wells over the next decade and upgrading the three platforms.
"Statfjord is a world-class oil and gas field that has supplied the world with huge amounts of energy," commented Arne Sigve Nylund, Equinor's NCS executive vice president. "The field has created high value and been a cornerstone in the development of the entire Norwegian petroleum industry. It is therefore a pleasure to see that we, together with our partners in the area, can extend the production period and extend the value creation."
Equinor stated the efforts to maintain Statfjord's current production level beyond 2025 will increase revenue but pointed out the company will continue to improve operations to control costs. As a result, it noted that Statfjord field operations will be reorganized. Also, it noted that it will create a new late life unit to develop news to safely and efficiently operate late-life fields on the NCS while keeping carbon dioxide emissions as low as possible.
According to Equinor, the late-life unit and business plan were developed will the involvement of all five of the trade unions in the company: Industri Energi, SAFE, NITO, Tekna and Lederne. The company's written statement included praise for the initiatives from labor officials.
"I am speaking on behalf of all the trade unions in Equinor when I saw that we are pleased about Statfjord operations being extended for many years, leading to higher employment and more value creation – it is truly and adventure," remarked Bjorn Asle Teige, employee representative and SAFE leader in Equinor. "We have had both good and demanding discussions on this project, especially on the operational reorganization. Our requirement is that safety is given top priority."
Per Martin Labrathen, employee representative and Inudstri Energy leader in the company, also applauded the news.
"Jobs on the NCS are highly profitable and important to Norway, so this is a good decision for us," Labrathen said. "It is good social economics to utilize the NCS infrastructure we have invested in, to make optimal use of the Norwegian community's resources. This is something our people on the NCS focus on every single day. However, we must meet the climate challenge and work even harder to reduce emissions from our production. This will be more important for the petroleum industry going forward."
To contact the author, email mveazey@rigzone.com
Generated by readers, the comments included herein do not reflect the views and opinions of Rigzone. All comments are subject to editorial review. Off-topic, inappropriate or insulting comments will be removed.