E&Ps Breaking The Cycle of Boom And Bust
|
Friday, January 25, 2019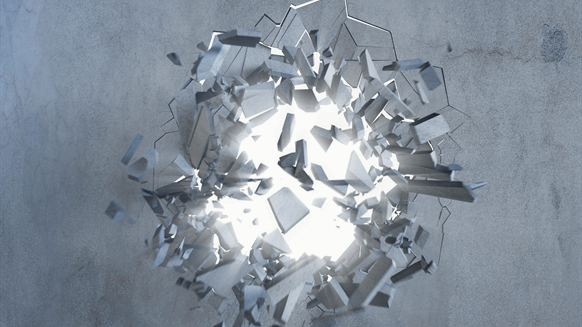 Generating free cash flow is the key to unlocking E&P competitiveness, but that will require a significant shift in thinking - and spending.
This piece presents the opinions of the author.
It does not necessarily reflect the views of Rigzone.
In September 2017, I wrote an article on the value destruction of exploration and production (E&P) stocks since the 1950s, highlighting the historically poor capital allocation of the biggest E&P names (illustrated in the chart below). I attributed the problem to executive compensation packages that reward production at any cost. Today, many of the largest E&P company boards have now adjusted their executive compensation to include metrics that help capital discipline, such as Production/Debt Adjusted Shares and Incremental Cash Flow Return on Invested Capital. This has helped, but I believe there is one final step necessary to create an industry that can compete with other sectors for investors' capital over a cycle — these companies need to generate free cash flow.
The largest E&Ps have lagged the S&P 500 in Cash Flow Return on Investment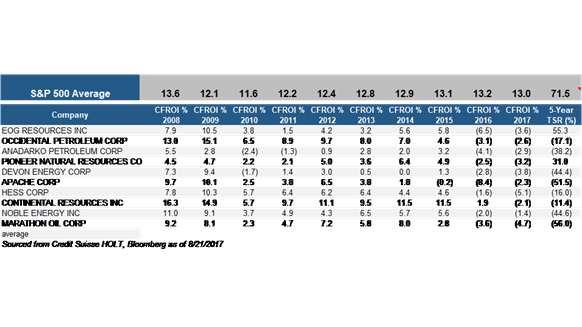 Data from Jan. 1, 2008, to Aug. 21, 2017. Data shows the state of the industry at the time when the author wrote his first article about this issue. CFROI stands for Cash Flow Return on Invested Capital. TSR stands for Total Shareholder Return. HOLT is a proprietary system of Credit Suisse.
How Did We Get Here?
Suffice it to say that dilutive acquisitions and rampant capital expenditures over time resulted in the E&P industry earning far below their cost of capital when historical write-downs were taken in each of the past energy cycle downturns. This trend was exacerbated in the 2005-2014-time frame, when conventional wisdom said that supply could never catch up with demand due to the growth of emerging economies and a lack of new discoveries.
What we learned in 2014, however, was that US companies were growing production and profits under the pretense that oil prices were sustainable above $100 a barrel. This was a fiction that destroyed the returns of the oil industry once again. When Saudi Arabia decided the craziness was enough and stopped its support of $100 oil, the E&P industry and investors were taught a harsh reality. OPEC increased production to stem share losses, and it became apparent that the marginal cost of a barrel of oil is $60 to $65, resulting in an oil price much lower than the industry's unrealistic prior expectations. As investors such as ourselves pointed out to companies then, it was time for them to adjust their business models to compete with a lower oil price and the return characteristics of stocks in other market sectors.
Kevin Holt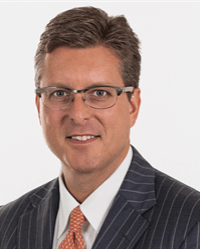 Chief Investment Officer, US Value Equities, Invesco
Where Do We Go Next?
As mentioned above, many of the largest E&P company boards have adjusted their executive compensation systems to promote capital discipline, and we commend Anadarko, Apache, Devon, Noble, Pioneer and Marathon, for example. But now, it's time for the E&P industry to go a step further and generate free cash flow. This is critical given that this is a mature commodity business that will be affected by alternative sources of energy in the very long term.
Recently, I asked managements and investors which industries have grown their top-line in the double digits, as mid-cap and large-cap E&P companies have done — and most could only name a few of the most well-known technology stocks. This is at the heart of the problem. In a commodity-oriented industry, managements must commit to earning full-cycle returns above their cost of capital without OPEC and the Saudis bailing them out from their irresponsible capital spending and production growth.
So, what is the business model that would make E&P companies investable over an economic cycle? It's simple, but sometimes the easiest solutions are made more difficult than they need to be. In my view, mid- and large-cap E&P companies should budget every year for $50 oil, so that they can grow production no greater than 5% — yes, only 5% like most other companies in the S&P 500 — and only spend 75% of operating cash flow on capex, which is in-line with other mature industries. This would create a sustainable model of reasonable top-line growth as well as free cash flow generation to be used for buybacks (especially in periods such as today, when stocks have 50% or greater upside to intrinsic valuations) or dividend payments (which can be a fixed level or one-time annual payment to avoid unnecessary stress in periods of economic weakness). If this were to happen, the industry's capital discipline would finally resemble that of other sectors, and these stocks would be great opportunities.
This has once again been a brutal period for energy stock performance, given the lack of commitment to a returns-based strategy by the E&P industry. However, I believe that the industry has the opportunity to re-write history in an incredibly positive way for shareholders, management teams and investors.
Production/Debt Adjusted Shares compares a company's oil and gas production with its debt plus the equity value of the company.
Cash flow return on investment (CFROI) is a valuation model that assumes the market sets stock prices based on a company's cash flow rather than its earnings.
Capital spending (or capital expenditures, or capex) is the use of company funds to acquire or upgrade physical assets such as property, industrial buildings or equipment.
Generated by readers, the comments included herein do not reflect the views and opinions of Rigzone. All comments are subject to editorial review. Off-topic, inappropriate or insulting comments will be removed.