Eni to Operate Alaska Oil Field
|
Thursday, January 03, 2019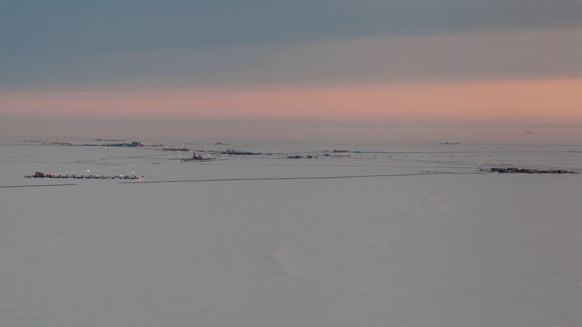 Eni strikes a deal with Caelus Natural Resources Alaska LLC to acquire 70% and operatorship of the Oooguruk oil field.
Eni S.p.A. has struck a deal with Caelus Natural Resources Alaska LLC to acquire 70 percent and operatorship of the Oooguruk oil field in Alaska, Eni reported Thursday.
Eni, which currently owns the remaining 30 percent working interest in the Beaufort Sea field, noted that the agreement is subject to the approval of authorities and to closing conditions.
In production since 2008, Oooguruk is located approximately 5 kilometers off Alaska's North Slope coast. The field boasts gross production of approximately 10,000 barrels of oil per day (bopd) from 25 producing wells and 15 gas/water injection wells, Eni stated. Oooguruk holds estimated potential reserves of 100 to 150 million barrels of oil and sends production from a six-acre gravel island in state waters to an onshore tie-in pad via a subsea flowline bundle, Caelus noted on its website.
According to Eni, acquiring the 70-percent stake in Oooguruk will enable the company to boost its Alaska production by approximately 7,000 bopd gross. In addition, Eni stated the deal will enable it to build operational synergies between Oooguruk and the nearby Nikaitchuq oil field that it already operates and in which it owns a 100-percent working interest.
Eni added that it plans to drill more production wells at both Oooguruk and Nikaitchuq to raise its total Alaska production beyond 30,000 barrels of oil equivalent per day. Nikaitchuq, which has been in production since 2011 and currently produces approximately 18,000 bopd, is located approximately 13 kilometers northeast of Oooguruk.
Thursday's announcement marks Eni's most recent move to expand its Alaska footprint within the past six months. In August 2018, the company acquired from Caelus 124 exploration leases encompassing approximately 350,000 acres in the state's Eastern North Slope.
Generated by readers, the comments included herein do not reflect the views and opinions of Rigzone. All comments are subject to editorial review. Off-topic, inappropriate or insulting comments will be removed.