Energy Groups React to H.R.1 Bill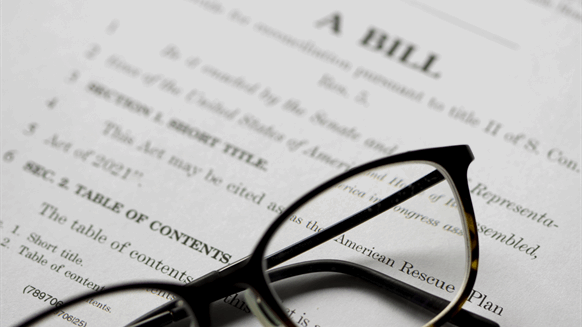 Several energy groups have reacted to the H.R.1 bill's passage through the House of Representatives.
Several energy groups – including the American Petroleum Institute (API), the Energy Workforce & Technology Council (EWTC), and the American Exploration and Production Council (AXPC) - have reacted to the H.R.1 bill's passage through the House of Representatives, which occurred on March 30.
"We applaud the House of Representatives for passing H.R. 1 - commonsense legislation that puts our nation's energy security front and center," API President and CEO Mike Sommers said in an organization statement.
"It is clear now that both Republicans and Democrats share the common goal of providing reliable energy to Americans and making energy safer, cleaner, and more affordable," Sommers added.
"This is a positive step towards enacting serious, bipartisan permitting reform and we look forward to continuing to collaborate on real solutions that will modernize our infrastructure and benefit all Americans," Sommers went on to say.
The EWTC also applauded the passage of H.R.1, with President Tim Tarpley stating that "the federal government should be enacting policies that support U.S. energy security, not standing in the way".
"H.R. 1 goes a long way in moving us towards that goal. We believe this legislation will allow for a resurgence in American oil and natural gas production by providing much needed regulatory reform, removing barriers to vital infrastructure development, and restoring certainty to federal on- and offshore leasing," he added.
"Unlocking our domestic energy strengthens our national security, lowers energy costs across the country, and helps reduce global emissions by increasing U.S. oil and gas that is produced cleaner and safer and under stricter environmental regulations than almost all other major suppliers," Tarpley continued.
Unleashing American Energy
AXPC CEO Anne Bradbury said, "in passing the Lower Energy Costs Act [H.R.1], the House of Representatives demonstrated its commitment to unleashing American energy for our nation's economic growth, security, and environmental leadership".
"We encourage the U.S. Senate to work in a bipartisan, bicameral way to pass legislation that unleashes American energy and lowers household costs by modernizing permitting, supporting U.S. energy's access to global markets, supporting production on federal lands, and repealing the new, punitive tax on natural gas that would raise Americans' energy bills," Bradbury added.
Also commenting on the bill's passage through the House, American Energy Alliance President Thomas Pyle said, "H.R. 1 addresses many of the policy priorities that the American Energy Alliance has championed in recent years".
"The Lower Energy Costs Act will cut red tape and increase domestic energy production to lower energy costs for American families and reduce our dependence on China for important minerals and mineral processing," he added.
Rigzone has asked the U.S. Department of Energy (DOE) for comment on the H.R.1 bill's passage through the House and on the API, EWTC, AXPC, and AEA's statements. At the time of writing, Rigzone has not yet received a response from the DOE.
Passing the House
Last Thursday, the Congress website revealed that the H.R.1 bill had passed the House of Representatives with 225 Yeas to 204 Nays after being introduced to the House on March 14.
The bill expedites the development, importation, and exportation of energy resources, including by waiving environmental review requirements and other specified requirements under certain environmental laws, eliminating certain restrictions on the import and export of oil and natural gas, and prohibiting the President from declaring a moratorium on the use of hydraulic fracturing, a summary of H.R.1 posted on the Congress site states.
It also does this by "directing the Department of the Interior to conduct sales for the leasing of oil and gas resources on federal lands and waters as specified by the bill and limiting the authority of the President and executive agencies to restrict or delay the development of energy on federal land," the summary on the Congress site highlights.
"In addition, the bill reduces royalties for oil and gas development on federal land and eliminates charges on methane emissions. It also eliminates a variety of funds, such as funds for energy efficiency improvements in buildings as well as the greenhouse gas reduction fund," the summary continues.
H.R.1 still needs to pass the Senate, then go to the President before becoming law, the Congress site outlines.
To contact the author, email andreas.exarheas@rigzone.com
Photo Credit – iStock.com/hapabapa
What do you think? We'd love to hear from you, join the conversation on the Rigzone Energy Network.

The Rigzone Energy Network is a new social experience created for you and all energy professionals to Speak Up about our industry, share knowledge, connect with peers and industry insiders and engage in a professional community that will empower your career in energy.