Energean Posts Revenues Jump In 2022, Heads Into Busy 2023
|
Friday, January 20, 2023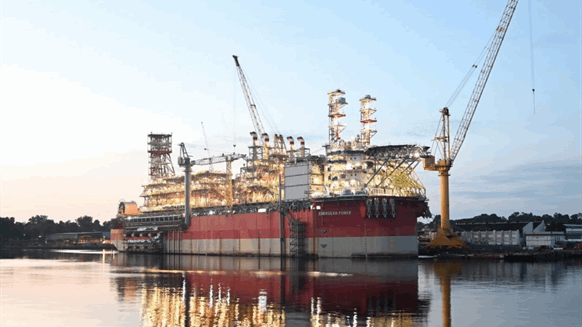 Energean has closed a landmark year of 2022 with a 48 percent jump in revenues compared to 2021.
Energean has closed the year 2022 almost doubling its revenues compared to the previous year. The company posted revenues of $736.7 million, 48 percent up on the $497 million reported in 2021.
Production excluding Israel was 35.7 kboed, in the middle of the guidance range of 34.0 – 37.0 kboed. In 2023, underlying production (excluding Israel) is expected to increase by approximately 12 percent at the mid-point of the guidance range (2023: 37.0 – 43.0 kboed), benefitting from the contribution by the NEA/NI development, offshore Egypt.
Israel 2022 production was lower than forecast due to the project being in the commissioning phase. In 2023, Energean expects to produce between 4.5 and 5.5 bcm of sales gas plus 15 and 18 kboed of hydrocarbon liquids. The top end of this range is driven by the ACQ under the gas sales agreements, whilst the bottom end of the range represents the TOP volumes and is viewed by Energean as a highly conservative case. No spot market sales have been assumed within this range.
Portfolio-wide production in 2023 is expected to be between 131 and 158 kboed, a major step towards Energean's mid-term production target of 200 kboed.
"2022 was a landmark year for Energean. We commenced production from the only FPSO in the strategically vital Eastern Mediterranean region; commenced payment of dividends to our shareholders; and we successfully discovered and de-risked new natural gas resources adjacent to our infrastructure, providing significant potential upside and export optionality. We are proud to have helped to underwrite Israeli and regional energy security and promote prosperity," says Mathios Rigas, Chief Executive of Energean.
"Our focus for 2023 is on continued operational growth. We will continue to ramp up production from Karish and finalize the development concept for the strategically significant, 67 bcm Olympus Area. Production will also start from Karish North in Israel and NEA/NI in Egypt. 2023 is the year that we will make a significant step towards delivering our medium-term production target of 200 kboed," he adds.
Karish project has been brought onstream in October 2022, confirming excellent reservoir deliverability. The company has also identified and implemented solutions to resolve a range of typical above-ground commissioning issues at Karish, with no further impact to production levels anticipated following the FPSO commissioning process, expected in February 2023.
Looking forward, Energean expects total sales of gas in 2023 to be between 4.5 and 5.5 bcm. The top end of this range is driven by the Annual Contract Quantity (ACQ) under the gas sales agreements, whilst the bottom end of the range represents the Take Or Pay (TOP) volumes.
First cargo of hydrocarbon liquids lifted under the contract with Vitol is expected in February 2023.
To contact the author, email andreson.n.paul@gmail.com
Generated by readers, the comments included herein do not reflect the views and opinions of Rigzone. All comments are subject to editorial review. Off-topic, inappropriate or insulting comments will be removed.