Does a Digitization Domino Effect Await Oil and Gas?
|
Thursday, April 19, 2018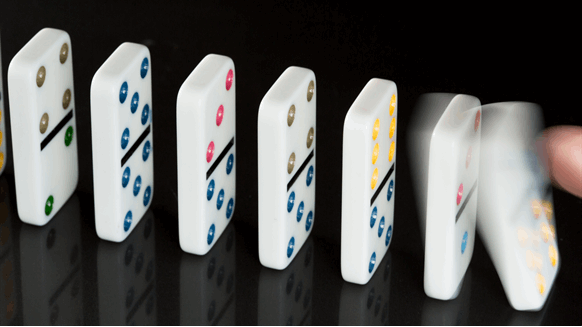 AspenTech survey reveals major obstacles in oil and gas firms' quest to digitize.
Oil and gas companies that integrate advanced analytics, machine learning and other facets of digitization into their operations can achieve significant cost savings – 16 percent or more – in their operations, finds a recent Aspen Technology survey of more than 400 energy industry managers and executives.
In perhaps an ironic twist, however, nearly one-half of survey respondents contend there aren't enough humans – specifically those with data science expertise – available to fully implement the oil and gas industry's digital transformation.
When asked what they consider the top barrier to adopting data analytics, the largest share of respondents – 44 percent – selected "Lack of In-House Expertise." The breakdown of other responses by survey participants, who were allowed multiple choices for this question, follows:
Cost of Data Analytics (42 percent)
Lack of Production Data (33 percent)
Lack of Confidence in Benefits (29 percent)
Organizational Resistance (29 percent)
Other barriers (22 percent)
Ron Beck, AspenTech Energy Industry Director, told Rigzone that upstream dynamics are demanding a different approach to design, operations and maintenance, which he said "have long persisted as isolated worlds of optimization" in oil and gas.
"Data alone is not able to provide the predictive intelligence that operations and decision-makers require," said Beck. "Models that encompass interactions with the reservoir, the production process, the equipment and the economics provide the opportunity to fully leverage available data for actionable insights."
Beck recently elaborated on some of the survey's findings with Rigzone, including how oil and gas companies can overcome limitations in data analytics know-how. Read on for excerpts from the conversation.
Rigzone: Regarding lack of in-house expertise, what are some specific data analytics roles that oil and gas companies desperately need? Is outsourcing currently filling this gap in terms of data analytics and, if so, why is the in-house route a preferred option?
Beck: Data scientists and analytics professionals aren't the most scalable or economical option anymore. Thanks to machine learning and cloud technologies, much of this analytics work can be automated by software. Systems that focus on making that software usable and easy to understand is critical as longtime experts are retiring, leaving behind young professionals who lack decades of experience. The emergence of effective machine learning and automation of knowledge work to make complex decisions faster and with fewer experienced experts bridges this expertise gap.
Rigzone: Twenty-nine percent of your survey respondents identified lack of confidence in benefits as a major barrier to digitization. What are some key selling points for digitizing the oil and gas industry?
Beck: There are many opportunities to achieve benefits through data analytics, both in the CAPEX, OPEX and reliability domains as well as in reducing production costs through digitization. Our survey shows that integrating data analytics allows for practical improvement in reliability and production, most significantly through:
equipment monitoring models (66 percent)
machine learning technology (54 percent)
online predictive models (52 percent)
Companies can utilize data analytics to solve the complexity of unconventionals, allowing for flexibility in production processes, as well as better and faster models to advise operations and technology for remote decision-making and optimization. The added integration of software complements this initiative to maximize production and reliably meet quality targets with flow assurance, hydraulic analysis and offline/online model-based production optimization.
Rigzone: Twenty-nine percent of those surveyed also indicated that organizational resistance is a barrier. What are some examples of how digitization initiatives can face resistance at different levels of an oil and gas organization?
Beck: Even as prices rebound, oil and gas companies need to reinvent the way they operate. Getting ROI and finding practical applications for digital transformation is key. For upstream executives, the challenge is to make sense of which technologies match their business priorities best and how to assemble them into viable business solutions. Then, once digitalization is invested in, there needs to be a cultural shift that accompanies it. Data analytics can get design, operations and maintenance all working together – as one team – for digitization to be successful.
Rigzone: Oil and gas has historically been fairly conservative in embracing change. Do these survey results reinforce that reputation, or are they pretty consistent with attempts to digitize other industries?
Beck: Before prices crashed, upstream oil and gas companies were under less pressure to invest in technology because margins were strong. Then they went into cost-slashing mode. Now oil is back up to $60-plus a barrel. Exploration and production is surging, and there are funds available to invest in growth and long-overdue technology updates.
According to the survey, 51 percent of upstream companies are using, testing or in implementation of data analytics and 45 percent of upstream executives expect to see an impact from analytics on operational effectiveness. This is going to create a domino effect. As more companies invest in analytics to improve asset performance and reliability, more will follow suit to stay competitive. Those who don't embrace and adopt data analytics will fall behind.
Generated by readers, the comments included herein do not reflect the views and opinions of Rigzone. All comments are subject to editorial review. Off-topic, inappropriate or insulting comments will be removed.