Devon Posts $995MM Profit amid Record Oil Output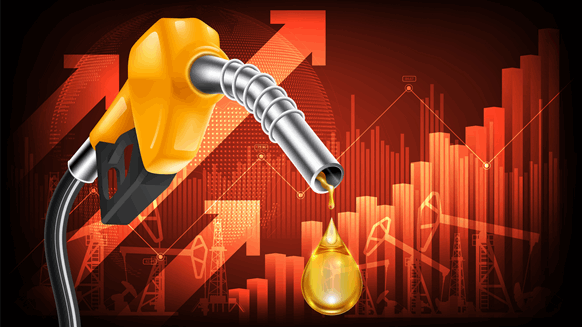 Devon's oil production surged to an all-time high 320,000 bpd.
Image by ChakisAtelier via iStock
Devon Energy Corp. reported Monday $995 million in net earnings for the first quarter as its oil production surged to an all-time high.
The USA producer's opening-quarter profit fell year on year from $1 billion and quarter on quarter from $1.2 billion as oil and gas prices fell.
Devon produced 641,000 oil-equivalent barrels per day in January-March 2023, up by both year-ago and prior-quarter comparisons.
"Oil production averaged 320,000 barrels per day in the first quarter, exceeding midpoint guidance by 2,000 barrels per day. This record-setting oil volume performance was driven by better-than-forecasted results across the company's diversified portfolio", it said in a press release. Devon extracts hydrocarbons from Anadarko basin, Delaware basin, Eagle Ford shale, Powder River basin and Williston basin.
Despite starting the year at a lower profit, it raised the rate of shares buyback by 50 percent to $3 billion against the previous board-authorized repurchase.
"Year-to-date, Devon has repurchased 12.9 million shares at a total cost of $692 million. Since program inception in late 2021, the company has repurchased 38.5 million shares, at a total cost of $2.0 billion", it said.
Profiting $1.53 per diluted share, Devon declared a fixed-plus-variable dividend of $0.72 a share, to be paid June. That includes $0.11 per share from $69 million in divestiture contingency payments it received in the quarter.
Devon maintained its full-year output forecast of 643,000-663,000 oil-equivalent bpd and projected capital investment of $3.6-$3.8 billion.
It expects per-well recoveries from its Exotic Cat Raider project in the Delaware basin in New Mexico state to surpass two million barrels of oil equivalent. The Delaware basin comprised the bulk of Devon's first-quarter production at 415,000 oil-equivalent bpd, up five percent year on year.
Devon entered the second quarter with an operating cash flow of $1.7 billion.
Beating the Zacks Consensus Estimate of $1.39 earnings per share, the Oklahoma city-headquartered company closed 1.27 percent higher to $51 Monday on the New York Stock Exchange.
To contact the author, email jov.onsat@rigzone.com
What do you think? We'd love to hear from you, join the conversation on the Rigzone Energy Network.

The Rigzone Energy Network is a new social experience created for you and all energy professionals to Speak Up about our industry, share knowledge, connect with peers and industry insiders and engage in a professional community that will empower your career in energy.