Deepwater Egypt Contract Goes to ADES-Vantage JV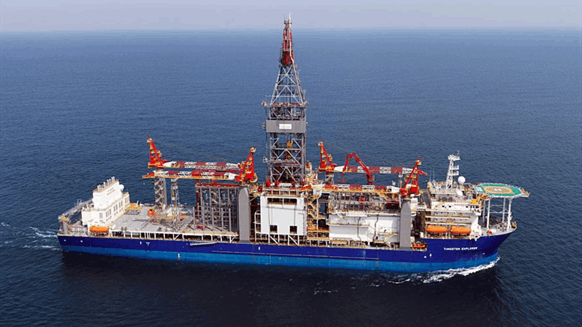 The Tungsten Explorer drillship. PHOTO SOURCE: Vantage Drilling International
Dana Gas has awarded a short-term exploration contract for deepwater drilling services in the Egyptian Mediterranean basin to a joint venture (JV) between a unit of ADES International Holding PLC and Vantage Drilling International, ADES reported Friday.
The estimated 77-day contract calls for one firm well using Vantage's Tungsten Explorer drillship and includes an extension option to an additional three wells, noted ADES, which is participating in the contract via its ADVantage JV with Vantage. ADES added that the contract will operate on a profit-sharing basis.
"We are extremely pleased to have secured our first contract in the Mediterranean with Dana Gas, where we will build on our track record of consistently delivering a high-quality service to our clients," Mohamed Farouk, ADES' CEO, said in a written statement emailed to Rigzone. "This contract is fully consistent with our approach, as we continue to see attractive long-term prospects for the JV and our partner Vantage's high-quality assets in the ultra-deepwater Egyptian market."
According to drillship specifications on Vantage's website, the Bahamas-flagged Tungsten Explorer was built in 2013 and can accommodate up to 200 people. Outfitted to operate in up to 10,000 feet (3,048) of water, the drillship can drill wells at depths up to 40,000 feet (12,192 meters), the website states.
"We are delighted to put the Tungsten Explorer back to work so soon after it completed certain upgrades as well as finishing its five-year campaign for Total in Congo," Vantage CEO Ihab Toma said in ADES' written statement. "This award recognizes the long track record of excellent performance and hard work of the crew of Tungsten Explorer. In particular, we would like to express our appreciation and gratitude to Dana Gas for giving Vantage and ADES its trust."
Generated by readers, the comments included herein do not reflect the views and opinions of Rigzone. All comments are subject to editorial review. Off-topic, inappropriate or insulting comments will be removed.